Decade In Design: The Biggest Events Of 2012
The past decade has been marked by ferment and change—and design has played its part. Tell us what we missed at #designdecade
As London's Olympic Village was built, designers had Athens and Beijing on their minds: both former hosts are saddled with giant, useless buildings. "Our premise was, we're designing for legacy, and, oh, yes, we happen to be accommodating the Games first," said Ken Durbin, a technical director with CH2M Hill (one of the three project managers), as construction was finishing up in 2012. A year later, the legacy begins:
1. OLYMPIC
Stadium
Olympics: 80,000 seats for opening and closing ceremonies, but designed to be shrunk afterward.
Now: Future 54,000-seat home of West Ham United Football Club. It'll open after getting a new roof and more facilities.
2. BASKETBALL ARENA
Olympics: Temporary structure; England isn't big on basketball.
Now: In storage and for sale for $3.3 million. Initial bids were due in March, but no sale appears to have been made. Barr Construction, its owner, would not comment.
3. ATHLETES' VILLAGE
Olympics: Nearly 3,000 units were built with empty kitchens, so the space could house more athletes.
Now: Kitchens have been installed, and it's a new neighborhood known as East Village. Residents moved in this summer.
4. AQUATIC CENTER
Olympics: A 17,500-seat facility; most seating was located in detachable wings.
Now: The wings were removed and replaced with glass walls. It's now a 2,500-seat facility that'll open for local use in spring of 2014.
---
It is an active year for image-sharing services—though for investors and entrepreneurs, it is not an especially clarifying one.
THE GOOD
Instagram sold to Facebook for $1 billion. Pinterest became the fastest-growing site ever. The app Draw Something, in which players guess each other's doodles, ruled the App Store—then parent company Omgpop sold out to Zynga for $180 million. Snapchat grew from its late-2011 launch toward its $800 million valuation (in 2013), signaling that there were still plenty of new ways to share.
THE BAD
It was the year Hipstamatic fell apart, PicPlz went nowhere, and Flickr kept foundering. Facebook, the world's largest photo-sharing network, went public and flopped. And Zynga, it turned out, only got itself into a terrible investment: In 2013, it would close Omgpop.
THE REALITY
"For every one image-sharing app you are aware of, another 10 or 20 exist," says Instagram's first investor, Baseline Ventures founder Steve Anderson. "The single most important takeaway is that user interface
matters—from design, intuitiveness, and functionality, with simple design elements winning most of the time."
---
January
JCPenney CEO Ron Johnson
rolls out his ultimately disastrous plan to redesign the company's stores.
(He'd be fired the following year.)
MakerBot
Industries releases the Replicator desktop 3-D printer. Later the same year it will release Replicator 2 and 2X models.
April
A CGI (but very realistic-looking) hologram of slain rapper Tupac Shakur appears to perform onstage at the Coachella festival, via a projection technique called
Pepper's Ghost.
June
Nike
ships the
Nike+ FuelBand
, solidifying the arrival of the quantified-self movement.
The London Bridge Tower opens, designed by
Renzo Piano
and nicknamed "The Shard."
July
Onetime Google designer
Marissa Mayer
becomes Yahoo's CEO.
August
A jury awards Apple more than $1 billion in its copyright suit against
Samsung
. (A year later, a U.S. District judge will slash that amount by 43%.)
October
Microsoft debuts Windows 8
, a flat design that moves away from Apple's more textured, skeuomorphic design philosophy.
November

Boeing's energy-efficient 787 Dreamliner debuts in the U.S., and is grounded two months later due to concerns over battery safety.
December
The
New York Times
publishes
Snow Fall
, an experiment in interactive storytelling.
COLOR OF THE YEAR*:
PANTONE 17-1463
*According to expert color forecasters at Pantone.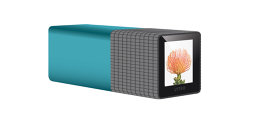 HOT ITEM:
Lytro allows you to change focus after a photo is taken.
FAIL:
Apple Maps replaces the excellent Google Maps iPhone app with a map that borders on nonfunctioning.
CAR OF THE YEAR:
Tesla Model S: Redefines electric vehicles.
SHOE OF THE YEAR:
Nike Flyknit: Remakes manufacturing process for an ultralight shoe.
LIGHT BULB OF THE YEAR:
Insteon: First app-controlled lightbulb.
BOOK COVER OF THE YEAR:
Hope: A Tragedy by Shalom Auslander; Design: John Gall
THE YEAR IN SPACE:
Dragon: Elon Musk's company SpaceX has the first commercial flight to dock with the International Space Station.
---
[Illustration by Andrew Law]
Photo by Jason Hawkes (Olympic Village)