An ingenious wheel that could turn any bike into an electric hybrid has won the U.S. round of the James Dyson Award, an event that's become the world's premier student-design competition. Tonight, the winner will be formally announced, at a Designer Pages event discussing the bright, bold future of design.
The so-called Copenhagen Wheel now joins other national-competition winners in the global competition, along with nine other designs. The grand-prize winner will then be announced on October 5th. They'll get $15,000 for themselves or their team, and another $15,000 for their school department. (It won't get your name on a building, but hey!)
The Copenhagen wheel, which was developed by a team at MIT led by Christine Outram has already attracted plenty of buzz. As the name suggests, the idea began in Copenhagen, after the city tasked the design team with creating simple interventions that dramatically improve the already robust use of bikes there.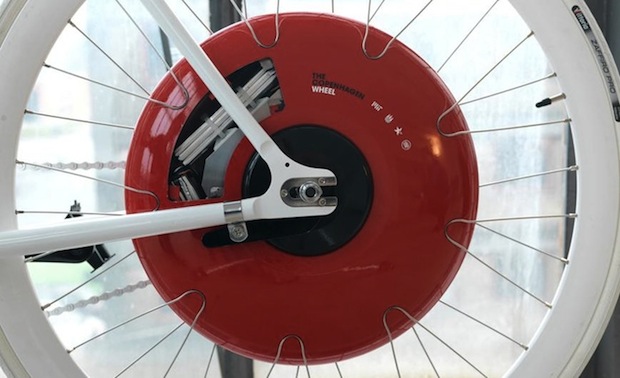 What they came up with is a hybrid wheel, which generates electricity during braking (similar to the regenerative braking you find in many car hybrids). It then offers that electricity as a power boost up hills or over long distances. That power is controlled by an iPhone interface. (Shades of Apple's Smart Bike!) Why's all this groundbreaking? The hope is that hybrid power, by making previously difficult bike commutes easy, could make bikes a viable option for countless more commuters.
But in selecting it, the Dyson jurors also prized the fact that it's a full-on, working prototype. The team that developed the wheel believes that with the right funding, it could be in production within a year, at a retail cost of around $600–not cheap, but well within reach.
Here's a round-up of the other nine U.S. finalists, in not particular order:
1. Kee
A device that turns your cellphone into a car key–to drive, you have to slot in your phone. But in doing so, the phone is disabled, thus solving the growing problem of driving while texting and talking.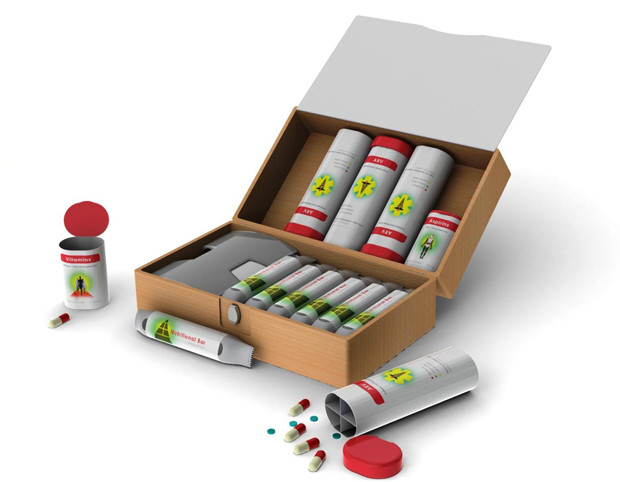 2. Empower by Me
Courses of anti-retroviral HIV medications are usually intensely complicated–requiring precise, regular timing for each dosage. That means that they're extremely hard for anyone in Africa to keep up with. This invention, which also doubles as a portable medical kit, is a container that has a month's worth of anti-retroviral drugs; a timer reminds the user when its time to take them.
3. Guardian
An integrated fire extinguisher and dispenser which gets rid of the barely functional clamps that are common today. The idea is to make pulling out the extinguisher trouble-free, and do-able by anyone without a second thought.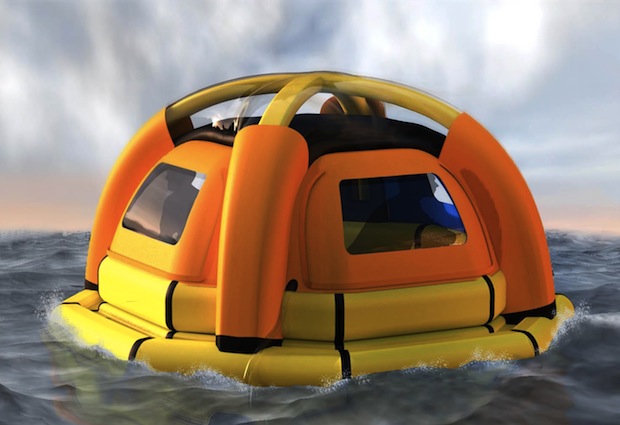 4. SeaKettle
A life raft that serves as a full-on shelter–and, more importantly, has an integrated system for desalinating seawater so that survivors can always have a ready supply of drinking water.
5. Travel Pack
A super compact and easy way to break down a bike and travel with it. (Though note that the break-down frame is a common innovation, which a frame-smith can already add to any bike.)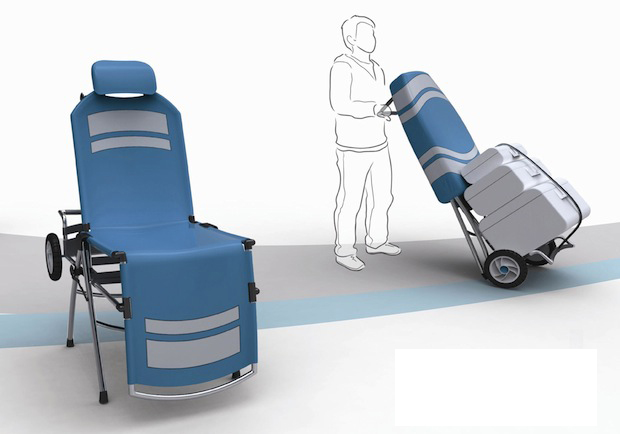 6. Mantis
In underserved regions such as rural America, dentists usually have to go out to their patients. And for that, they rely on hopelessly clunky "portable tools." Mantis is meant to be a simple, fully integrated solution, comprising a folding dentist's chair, medical kit, and dolly.
7. Purify
Brownie Points Award? The designer proposed a retrofit of Dyson's Airblade hand-dryer that would integrated soap and water–thus creating a high-tech, hands-free sanitation device for the hospitals.
8. Public Bicycle Security System The Fort Knox of bike-locking stations, which requires an I.D. to unlock a bike and has a huge wheel-locking mechanism that makes any bike essentially impossible to steal.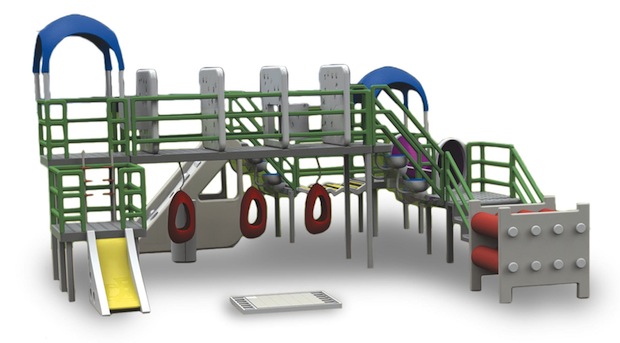 9. Parquinho
Last but not least, what might be the most original design in the entire batch: A modular jungle gym meant for autistic children. Every element is designed to treat a specific problem that autistic kids face–for example, providing sleeves where the kids can wrap themselves up, thus offering a controlled way of getting used to touch and pressure; and various obstacles designed to strengthen the muscles that are usually weak in autism sufferers. The individual elements can be bought piecemeal, and used at home: