New York City is getting ready to launch a novel, if vaguely horrifying, anti-speeding measure. It'll take the electronic signs that the Department of Transportation uses to announce traffic and weather conditions, and program them to transform a pedestrian icon into a creepy skeleton when cars blast through the 30 mile-per-hour speed limit. So it has come to this: New Yorkers are so lousy at abiding by the rules of the road, the DOT has to remind them that THEY?RE ALL GOING TO DIE.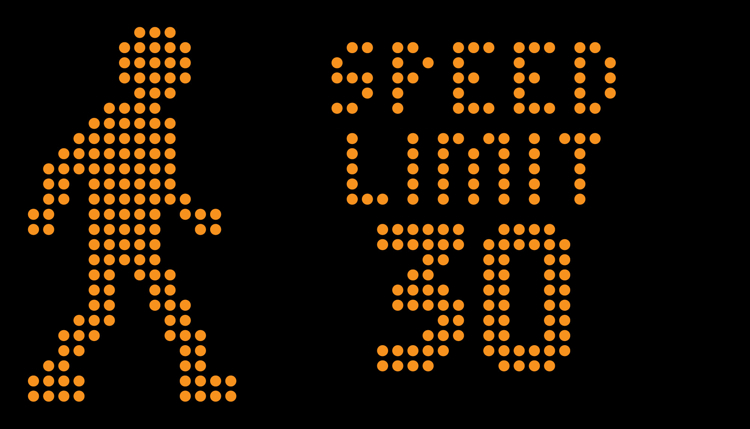 [Here's what the sign looks like when you're driving the speed limit]
"A 10mph shift is the difference between life or death."
Barbarian Group, a New York City creative agency, came up with the idea. "Our inspiration was based on a startling statistic the DOT revealed to us," creative director Philip Stockton tells Co.Design, echoing a post he wrote for the agency's blog. "Pedestrians struck by cars at 30 mph have an 80% chance of surviving the accident. A pedestrian struck by a car at 40 mph has a 70% chance of dying. When you are driving, that 10mph shift is subtle, but the effect it can have on a pedestrian is life or death."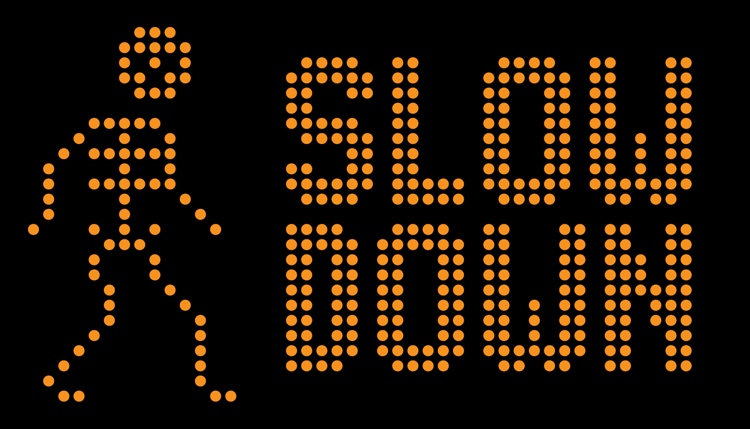 [And here's what it looks like when you're speeding… Tales From The Crypt, redux!]
But a skeleton: Really? Isn't that morbid to the max? "It is certainly scary, but we needed a serious image to match a serious message," Stockon says. "On the speed boards there's no room for complex imagery, or excess time for a driver to ascertain what they are looking at. Using the pedestrian walking man, and flipping that with the skeleton, let us get the message across in two frames."
The NY DOT is hardly the first to resort to extreme tactics to discourage reckless driving. We're all familiar with the giant matrix boards that announce how fast you're going to the rest of the world. In Stockholm, VW implemented a speed detector, which rewarded those who obeyed the limit by throwing their license plates in a lottery, with a purse composed of traffic-violation fines. And then there was this spectacularly nightmarish speed bump outside a Vancouver elementary school, designed to resemble a little girl.
"It is certainly scary, but we needed a serious image."
The Barbarian Group's skeleton looks downright tame by comparison. And on second thought, it's really not that scary. Billboards about babies getting killed by drunk drivers are scary. Little-girl speed bumps are scary. This sign looks like something out of a video game or the Walk-Don't Walk sign, with a shot of gallows humor. That might sound like it's trivializing something serious, but it's not. The point here is to get people to pay attention and change their behavior. If we're desensitized to straightforward fear tactics — and most of us are — then why not try something different, something maybe even a little playful" Novelty is a powerful draw.
We have no idea if this thing will actually work. So far testing has been limited to legibility and radar-responsiveness studies. (The DOT has yet to release its official launch date.) But the Barbarian Group seems pretty convinced it's rolling down the right track. "Transportation graphics communicate important road conditions differently than just text," Stockton says. "They tell a story in a second: The car with squiggly lines saying it's slippery, a walking man when to cross, a hand when to stop. This is a new graphic for a condition we want drivers to understand the dangers of."
[Images courtesy of Barbarian Group]