Barnes and Noble, whose Nook is rapidly gaining ground on Amazon's Kindle, announced this morning that it was launching its third generation e-reader, a smaller, lighter, more portable device called The All New Nook.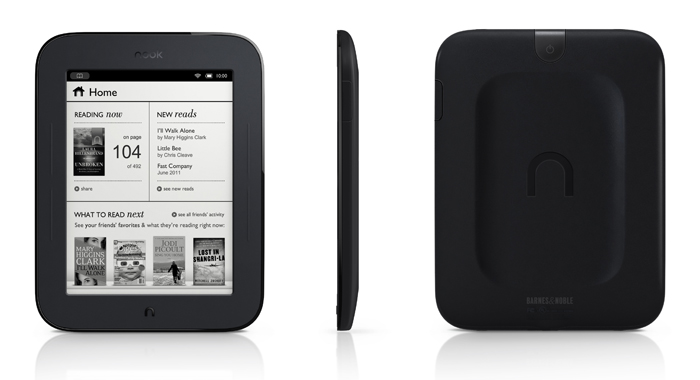 Targeted at the massive market of heavy users who don't share the digerati's obsession with the latest version of tablets, or hyperventilate over next-gen smartphones, this device is all about one thing: immersive reading. "The design of this product was inspired by people who find the current products overly complicated and daunting," says William Lynch, Barnes & Noble's CEO. "This is the Everybody Reader."
It has a touch interface and Wi-Fi, but no 3G option.
Lynch says that 11M people now own various e-readers, a substantial number, given that the devices have only been in the market for 3 ½-4 years. But there are still 60M people out there who buy at least 13 actual — not virtual — books a year. Even if some of those people already have e-readers, that leaves more than 50M people ripe for conversion to digital, if the device is right.
Lynch says that although the Nook has been in the market for only two years (compared to the Kindle's four), current versions now command a market share in e-book content north of 25% — a figure that analysts are speculating may have caught the attention of Liberty Media, which announced an offer last week to buy Barnes & Noble for $17 a share.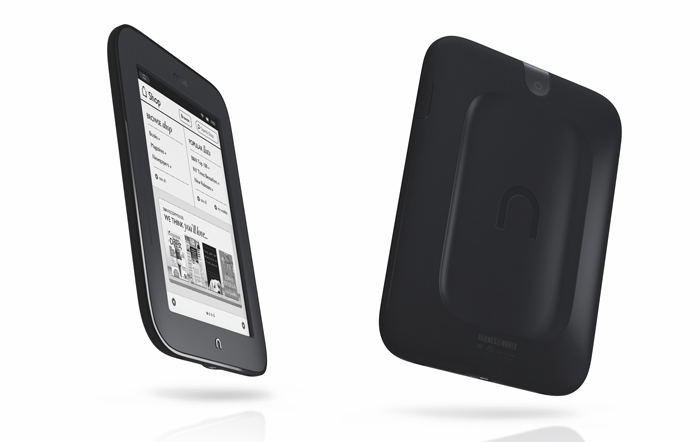 Designed by San Francisco-based industrial design firm Ammunition Group, the folks behind the original Nook, the new device has a six inch screen, and weighs just under 7.5 ounces, making it the lightest e-reader on the market — 35% lighter than the original Nook. It also has a touch interface and Wi-Fi, but no 3G option.
It's small enough to easily fit in a purse or the pocket of a man's jacket, says Ammunition's founder, Robert Brunner. "We thought of it as a digital paperback. It has rounded corners, and a sculptural back that conforms to your hand."
Adding that back made the device a millimeter and a half thicker but, Brunner says, but it also made it easier to hold and operate with one hand "in the carpool, the car wash, or McDonald's." And, unlike the Kindle, the All New Nook has but one button. 'Books don't have buttons,' says Brunner. "This is deliberately not about a Qwerty Keyboard staring you in the face, reminding you of work."
The new device has a six-inch screen, and is the lightest e-reader on the market.
In keeping with its focus on avid readers, the New Nook has a longer battery life than competitors, reportedly good for over two months, if you keep the Wi-Fi off. It uses the latest E-Ink technology (the Pearl 220 display), optimized for use in sunlight, but unlike V2.0 of the Nook, it does not support color. That makes it unsuitable for things like textbooks, that require a device that can display images, charts, and graphs.
But, on the software side, the new Nook has found a way to minimize the flashing you get when you turn pages — that moment when the screen goes dark before the next one loads. Lynch says the new reader has 80% less flashing — or "ghosting" as it's called — than previous readers.
All good, right? Well, there is one thing: the price. Barnes & Noble will be selling the thing (available for preorder today; in the stores by June 7-9) in Best Buy, Walmart, Staples, Books a Million, and its own stores for $139. That's the same price as the non-3G Kindle, but more than the $114 Kindle that comes with ads.
To truly make this the "Everybody Needs a Little Nooki" Nook, it would have been great to see it come in at under $100 "- that sweet spot where the impulse purchase mechanism most kicks in most intensely. Lynch is unrepentant about the price. ?If you read at all, you realize that it doesn't take many books to make the return on your $139 piece of hardware worthwhile."

[Some of the accessory covers that will be available]
Barnes & Noble is hoping that this is the device that will finally capture the hearts, and wallets, of the voracious readers of romance, sci-fi, and mystery novels who account for a large segment of sales, and that ease-of-access to the company's 2 million books will fuel their addiction. "The people who have purchased Nooks are already buying 55% more units from B&N across physical and digital than they were before," Lynch says.
Meanwhile, Lynch says, B&N's other bit of good news is the success of its PubIt! self-publishing platform. In less than six months, Lynch says, the company has signed up over 30,000 independent publishers and authors, who get a 70/30 split on sales. "This is vanity publishing on steroids," he says. "There's been an explosion of smaller writers who now have an easy vehicle for publishing and marketing their products. It really disrupts and unlocks the publishing process. We're very bullish on it."
Pointing to Amanda Hocking, the 26-year-old author of teen para-normal novels, who had already sold 450,000 self-published digital books by January of this year, Lynch says he expects this will be where traditional publishers will fish for new talent in the future. "This will be the farm system for the industry going forward."
While Lynch couldn't be persuaded to give sales figures, he confessed the venture now represents a significant revenue stream. "We've been shocked — and I don't use that word lightly — by how quickly it's become a material part of our sales," he says. Liberty Media" Are you listening"
Note: A reader just Tweeted that the Sony Pocket PRS350 is lighter, at 5.64 ounces. True! But note also that the Nook has a 6 inch screen, vs. the Sony's 5 inches.