And you doubt that these guys are athletes?
We always thought of race-car driving as the kind of sport that didn't place much of a premium on athleticism — like baseball, where you can be fat and slow and still make a bunch of All-Star teams. Boy were we wrong. As this superb new ad for Audi makes clear, driving requires incredible physical prowess: the ability to slam a brake pedal with 80 kilos of force, raise your heart rate to 140 bpm (the equivalent of a light jog) for the duration of a race, and hold your breath when taking a corner to stop g-forces from crushing your lungs against your ribcage. That's right. Crushed. Against. Your. Ribcage.
The ad talks specifically about the 24 Hours of Le Mans, car-racing's answer to the Tour de France. For more than 2 minutes, Scottish driver Allan McNish — a two-time Le Mans winner, including once in an Audi R10 — details the punishing toll the race takes on his body. Ad powerhouse BBH London designed the spot, with Chris Hemming at Passion Pictures directing, and played up the drama of McNish's monologue with motion graphics. If you watch the film about a dozen times, as we did, you start feel like you're the one in the driver's seat, crushed lungs and all (a good thing!).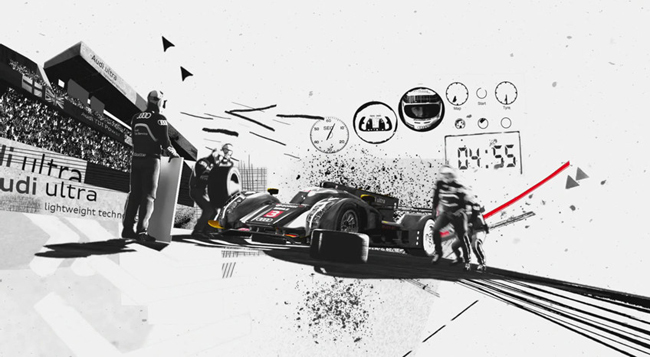 Audi is pretty damned clever to hook a promotion around car-racing and to do it in such an expressive way. The company's got major bragging rights, having won Le Mans nine out of 11 times in recent years. "Audi were keen to promote Le Mans, as it is an unsung success for them," Kevin Stark, creative director at BBH, told Creative Review. "…I was lucky to see Le Mans winner Allan McNish at the Audi National Forum. He did a five-minute lecture on the famous endurance race, but from the driver's perspective. I thought this might have potential to answer our brief. We wanted to bring a human aspect to Audi communications and Allan's off-beat and likeable style was a good fit."
Apparently, a 3-D version of the ad will run on Sky 3-D during the UEFA Champions League final on Saturday and in theaters, where maybe for once movie-goers won't laugh an ad off the screen.
[Hat tip to Creative Review]