We tend to talk about "the media" as a monolithic force of nature, like mountains or the wind — but it's a fallible human endeavor, constantly mutating in unpredictable ways. That's the guiding principle of NPR's On the Media, and also the premise of a new book by that show's host, Brooke Gladstone, called "The Influencing Machine." But this is not your father's media manifesto: Gladstone conceived it from the start as a comic book, and she's a character in it herself. To pull it off, she teamed up with illustrator Josh Neufeld, whose own highly acclaimed comics similarly blur the distinction between art and journalism. The result is part Persepolis, part Marshall McLuhan, and totally engaging.
"I actually had chosen the form [of comics] even before settling on the subject matter of the book," Gladstone tells Co.Design. Indeed, Gladstone is a self-described sci-fi comics geek and had already been working on a graphic novel about journalists in the year 2045 when she "plotted [her]self into a corner." A friend suggested the classic advice — write what you know — and so Gladstone turned her attention back to nonfiction media criticism, and "The Influencing Machine" was born.
Gladstone felt comics were the closest way of re-creating on paper the intimacy of radio.
An editor suggested she collaborate with Neufeld, who admits that "if I hadn't been a fan of On The Media already, I'd have been pretty dubious" about the concept. It also helped that Gladstone and Neufeld shared a pair of key creative influences about the comics form: Scott McCloud's "Understanding Comics" and the graphic-novelization of Paul Auster's "City of Glass." "If I hadn't read 'Understanding Comics," I'd never have believed ["The Influencing Machine"] was even possible," Gladstone says. "I was a fan of comics, but I hadn't understood what made them so cool: how to use beats, lines, visual silence. Obviously that's in Josh's purview, but now I could at least suggest illustrations that could begin to convey the abstract ideas I wanted."
"But just because someone's read those books doesn't mean they'll be able to write comics as effectively as Brooke did," Neufeld asserts. Indeed, they collaborated in the same way that any veteran comics-creating team usually does: Brooke wrote not just dialogue and captions, but whole scenes and visual action, while Neufeld refined and brought that script to life in illustrated panels. "I threw things at Josh that I could see in my head, but couldn't see how they fit into a flat plane," Gladstone says. "For example, you can't have the entire Crimean War in one panel. The war chapter was our most challenging — we had to redesign it more than once to make it work."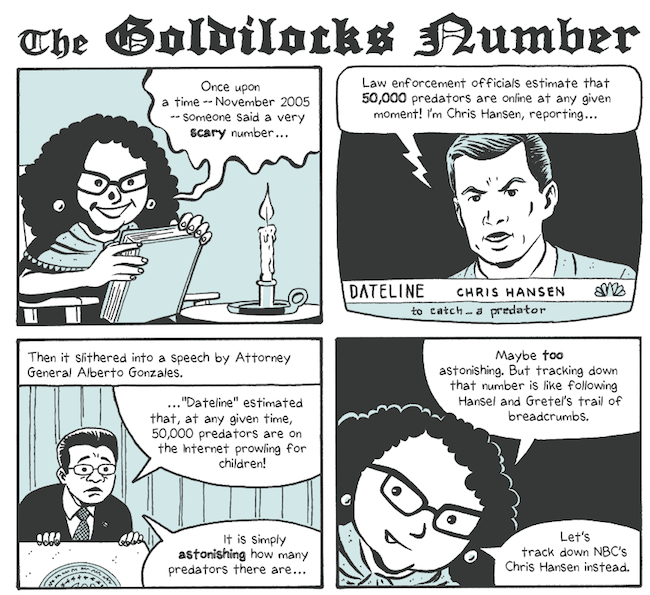 [A strip that breaks down the fuzzy math behind a scary statistic]
But the main reason why Gladstone wanted to use the comics form to opine on the past, present, and future of media was because she felt it was the closest way of re-creating on paper the intimacy of radio broadcasting. "I wanted to make a connection, not be an absent narrator," she says. By appearing in the panels as a character and guide herself, she could literally "look readers in the eye." "Look, some of the ideas [in "The Influencing Machine"] are kind of complicated, much the same as in McCloud's book, and sometimes the readers needs to be able to 'take a moment' to grasp something before moving on," she says. "Having someone in the frame talking to you and following along gives you the space to do that."
"In comics, I get to be a dog, Medusa, Spider-Man, or go into the Matrix."
The visual design of Gladstone's "avatar" was also crucial — but she and Neufeld "barely discussed it" because they had the same vision. "Brooke" would need to be drawn more cartoony than realistically: not only because it suited Neufeld's style ("There's a reason why my drawing of Thomas Jefferson needs to have a label next to him," he jokes), but because — as Scott McCloud explains in "Understanding Comics" — the more a drawn face looks like "anyone" rather than some specific, realistic person, the more likely we are to relate to it as a character.
But it's also "just really fun," Gladstone says. "In comics, I get to be a dog, Medusa, Spider-Man, or go into the Matrix. It matches my skills as a radio journalist to produce written material in this form: the personal connection, the use of images the way I use sound on the radio. It's all about the rhythm. The rhythm of this form made sense to me: I could 'play' it." Maybe Gladstone will finish up her science-fiction graphic novel sometime soon as an encore.
[Read a sample of "The Influencing Machine" at Slate.com | Buy the book at Amazon]