When you delve into the details, a compelling logic emerges, despite the critical griping.
Snøhetta, the Viking architects of the World Trade Center pavilion and one of our 2011 Most Innovative Companies, unveiled embryonic plans for a hotly anticipated extension to SFMOMA last week and, as these things go, reactions were mixed. "SFMOMA wing gently expands reach…" a headline in the San Francisco Chronicle cooed. Two days later the same writer, John King, proclaimed the design 'imaginative and utterly unexpected, provocative and urbane.' But the L.A. Times's Christopher Hawthorne condemned the scheme. It's a "chiseled behemoth" masquerading as something smaller, he wrote, "like an iceberg trying to convince everybody that it is in fact an ice cube." Ouch.
Though criticized by some, the design appears exquisitely considered.
Who's right? Both, actually. At 225,000 square feet, the new wing is, virtually by definition, a behemoth, a mass of galleries and other programming that'll double SFMOMA's size — making it nearly as big as New York MoMA — to accommodate the bluechip art collection that Gap cofounder Donald Fisher bequeathed to the museum just before his unexpected death in 2009. And yet, as we discovered when we caught up with lead architect Simon Ewings recently, the design appears exquisitely considered. At its most rudimentary, it's an asymmetrical wedge, 195 feet tall and 335 feet wide, conceived of to do what all good architecture does: make life better for people both inside the building and out. This, despite that it rises in what might be the world's most awkward urban-infill site, behind what might be the world's most awkward-looking modern-art museum, in a city with an all-too awkward relationship to modern architecture.
Some background: Snøhetta won the commission in July, beating out an all-star cast of architects, including Normal Foster, Renzo Piano, and Diller Scofidio + Renfro. The job: to build a wing in the horribly cramped backyard of SFMOMA's existing building, a Mario Botta-designed cocoon variously described as iconic and hideous (we tend to think it looks like a giant worm in a Barcalounger), on a lifeless block in San Francisco's South of Market district. Immediately, Snøhetta set about "trying to get as much information as possible from the stakeholders," Ewings says. "We spent the first four or five months programming the building, holding workshops with staff and trustees, trying to find out exactly what they wanted so we could build the right building for the client."
The central design problem is keeping the building from feeling like a fortress.
Right off the bat, the architects knew the extension had to be big. The Fisher collection, after all, is gargantuan. (Whether it's SFMOMA's job to spend millions to house a single collector's work — especially after San Francisco rejected an earlier proposal to build a Fisher art museum in the Presidio — is another matter, one Hawthorne critiques smartly here.) The central design problem, then, was: How do you keep the building from feeling like a fortress both on the street and indoors? One solution was to give as much of the ground-floor space over to "public interfaces," Ewings says. So in the sliver on Howard Street, where the building meets the sidewalk, Snøhetta is planning a gallery with full glazing that generously opens the art on the walls to the outside world. It'll also feature a promenade that leads to a second museum entrance and works like a public plaza during the day. At night, the plaza will be gated and "completely secure," Ewing says, to prevent homeless people from sleeping there. (Okay, so some public interfaces not included.)
Indoors, the new building and the old building will be totally linked. "They will be perceived as one building, with two entrances," he says. "One issue is, if you do that, isn't that confusing" Where is the main entrance? But the building has become so big now, it can longer just serve visitors with one entrance. That's common in museums of this size around the world. And it works, just as long as visitors from both entrances are brought into one place.? The architects thusly plan to place all the ticketing, information desks, and cloakrooms in an elbow between the two buildings, freeing the atrium of Mario Botta's structure, where you buy tickets now, to be the lofty, open space it was meant to be. (Botta, for the record, has not partaken in the design process so far, but will be consulted in the future, Ewings says.)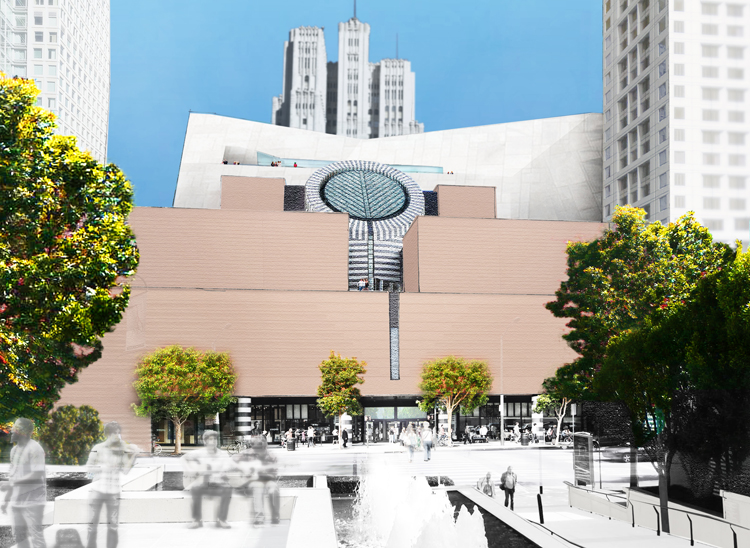 [The extension lies behind SFMOMA's infamous building by Mario Botta]
A variety of rest spaces prevent what Ewings calls "gallery fatigue."
The problem with wedding a pair of buildings is that it can make the place feel unmanageably huge. 'We're very concerned about making sure that the gallery experience is a good one, that visitors don't feel that it's confusing and a maze of space,' Ewings says. "So you have to create chances to orient yourself and step outside of the gallery." Snøhetta's idea: Chisel outdoor terraces or glazed spaces in the edifice next to the gallery on the northeastern facade (see top rendering) and on the roof. This creates a variety of rest spaces so that visitors don't get what Ewings calls "gallery fatigue" — a perennial risk in a museum of this size. It's also a lovely echo of the ever-shifting terrain of San Francisco itself. Ewings explains:
In San Francisco, you feel like you're always leaving and going, you go up and down, up and down. You're always provided with a new view of the city. So we felt we could use that idea to allow people to experience the museum and the city in different ways. We're creating a lot of variation within the design. So even though the building is relatively compact, you'll always be able to step into a space and look down or across or up into another space.
The details of how that'll unfold — of how people will circulate throughout the building and the precise coordinates of the breakout areas — are still being hammered out, as are matters like how the building will be clad (in stone or glass fiber-reinforced concrete?) and how to best steel the foundation against seismic activity. The design is far from finalized, and the truth is, no matter what Snøhetta comes up with, the architects are probably in for a fight, particularly if the city's tantrums over other art-museum proposals are any indication. Snøhetta is well aware that it's walking a tightrope. "Right now, SFMOMA is a very nice size," Ewings says. "It's not too big not too small, it's just right. But as the Fishers have come in with their donation, the museum needs to expand. The building is so much bigger now. It can no longer exist as a single entity. So what we're trying to do is offer a richer and wider spectrum of experience." We'll take that to mean that Snøhetta is proposing the best damned iceberg money can buy.