Hit games for smartphones tend to be ultra-simple, like Angry Birds. But was designing that experience simple? Hardly. Creating an engaging experience on a tiny screen that's inevitably obscured by the player's sausage-fingers is a pretty tough nut to crack. Maybe that's why a game called Bumpy Road is getting so much love: Players dig it because it's fun as hell, and gaming nerds adore it because the touchscreen-optimized game mechanics are pure genius. Instead of using a fingertip to awkwardly control an avatar, you control everything else onscreen instead. Call it the Portal of your palm.
The core innovation of Bumpy Road is its cheeky inversion of your basic expectations for a standard 2-D platformer. Tapping and swiping doesn't do a damn thing to the cute little characters that, in a lesser game, you'd be in charge of. They just sit in a car and drive blindly forward. Instead, you're in charge of bumping, warping, and curling the world around them to ensure they don't pull a Thelma & Louise. Want to get them over a chasm safe and sound? Use your fingertip to bump the road up underneath them, launching them into the air. That's much more fun than most other games, but it's also a much better user experience: If you had to hover your finger over the little avatars in the car the whole time, you'd a) never see them and b) have a hell of a time controlling them anyway.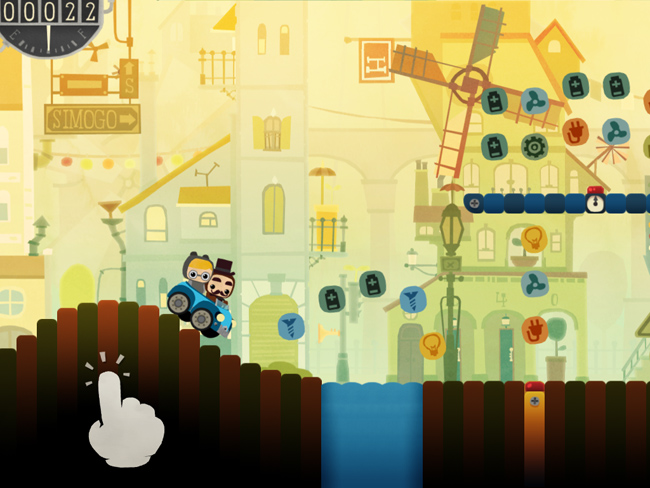 In fact, Simon Flesser and Magnus Gardeback (who designed the game under their Sweden-based aegis, Simogo) discovered this magical game mechanic first and then built a game around it. But unlike Angry Birds' comically weird violence, the gameplay in Bumpy Road is adorably cute — you start to care about the little couple in the car, and make sure they ride off into the sunset safely. Indeed, Flesser told Ars Technica that he took the twee Parisian world of Amelie as a key visual and emotional inspiration. With a surprisingly soulful and ingenious gameplay, Flesser and Gardeback will be riding off into the sunset together, too — all the way to the bank.