Mrs. Meyer's has staked a prominent position on shelves, with its fresh scents, an air of nostalgia, and the right mix of typographic wrongs.
Now available everywhere from your corner bodega to your neighborhood big-box, green cleaners have hit the mainstream. But in a category now crowded with contenders, Mrs. Meyer's Clean Day stands out as the friendly foe bearing a bouquet of flowers. The company's casual and lovable personality paired with quality products deliver an effective branding punch.
In the high-end green cleaner market, style matters.
Mrs. Meyer's Clean Day has formidable competitors with equally distinctive points of view. Method is the metrosexual brand for the design eye; Dr. Bronner's is for the hippie contingent; and 23-year-old Seventh Generation is the eco-pioneer. Each claims to leave a light touch on the planet.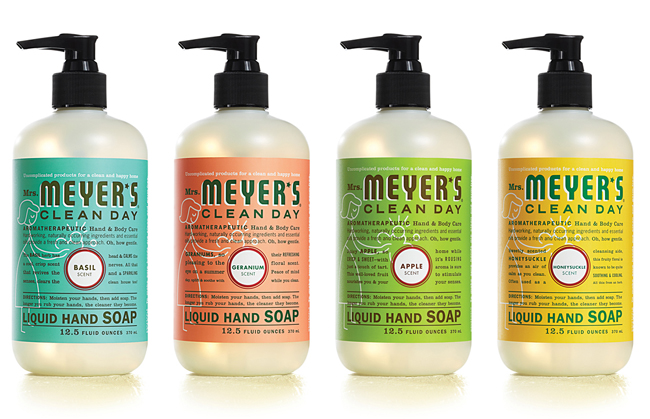 The brand's key differentiator is its range of appealing scents: basil, lavender, lemon verbena, geranium, rosemary, baby blossom, honeysuckle, apple, parsley. It redefines what clean should smell like and, in doing so, builds customer loyalty and market success. "We add a bit of delight to the rituals that take place in your home," says Kim Chisholm, VP of marketing.
The brand is unified by the mantra ?There has to be a better way," coined by founder Monica Nassif. It's an idea that you can see in each product, and continues to keep the company focused on improving the consumer offering, how their products work, and how to limit their impact on the environment.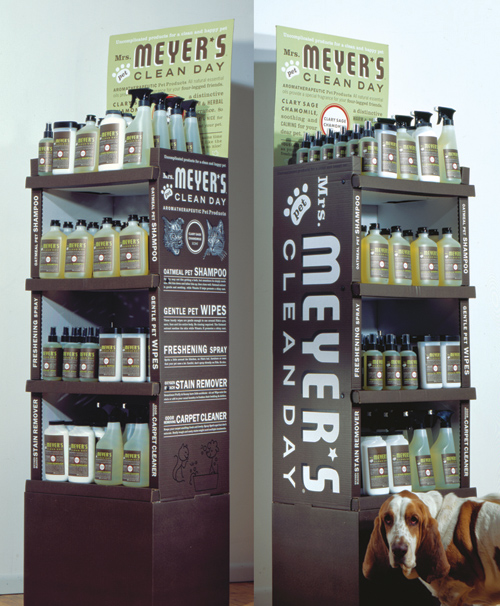 [Image by Darrell Eager]
Even if you didn't know that the products were inspired by a real Mrs. Meyer, that her name is Thelma, she's married to Vern, and raised nine children in a spic-and-span house in Iowa, the company's backstory drives the distinctive retro design. And in the high-end green cleaner market, style matters. The clever brand identity, designed in 2000 by Werner Design in Minneapolis, leverages a scaleable toolkit of typography and colors to impressive effect, employing a universal system of labels that looks so good at point of purchase that it commands great shelf position in stores like Whole Foods and Target. These displays project a brand in harmony, and each product and scent plays an integral part.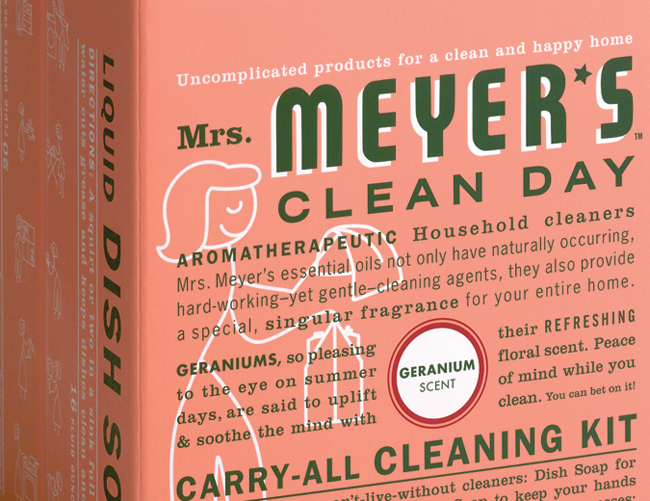 The design is all about typographic craftsmanship and nuance.
The identity uses a playful combination of typefaces, including Clarendon, News Gothic, Franklin Gothic, and Futura in the logo and on labels and marketing collateral. This unorthodox typographic approach might spell trouble in most designs, but here, it is just the right mix of wrong. It's all about typographic craftsmanship and nuance. The rich color palette, inspired by the fragrances, is a beautiful range of soft pastels. When seen together, they stand out on the store shelf without being garish.
All together, this strong graphic persona elevates the otherwise ordinary design of the bottles themselves. Topped with black caps and spray nozzles, the elements of the bottle contrast in a way I find a bit harsh for this otherwise sophisticated and charming brand. But it's important to note that literally every element of the visual branding "finds a better way." Even the frosted bottles are recyclable and composed of 25% post-consumer plastic.
In addition to the type and color choices, a delicate line drawing of a woman busy at work brings a little levity to the both the packaging and the brand ethos. This versatile and whimsical design recalls Paul Rand's illustrative work for El Producto cigars in the 1950s and lends a friendly personifying dimension to the overall design.
"We get out in the community whenever possible.?
The company's Web site, designed by Mono, does an excellent job of mirroring the brand personality and catering to the customer. It's easy to navigate, friendly, and allows for online purchases. It also features fun videos that speak to the brand's beliefs and history. On Facebook, a Mrs. Meyer's community manager responds to every comment, which shows the company's dedication to its customers. For a small company, its 9,000-strong fan base is impressive, although it pales compared to the 200,000-member following of Seventh Generation. Chisholm says the company receives continuous customer feedback on what's important to them, helping Mrs. Meyer's create products that meet the needs of the eco-conscious consumer.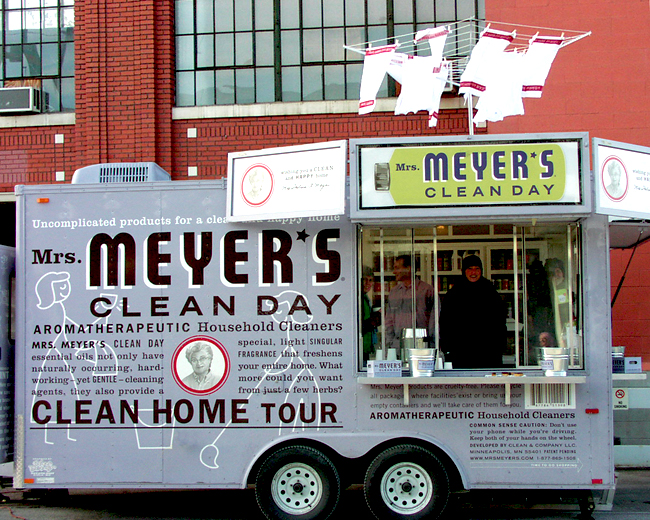 The company's values are amplified across grassroots marketing events that bring the brand to life.
"We get out in the community whenever possible" says Chisholm. 'Our most successful marketing programs allow consumers to experience the product or interact with the brand.' They're currently in Boston and San Francisco setting up hand-washing stations and performing "random acts of cleanliness."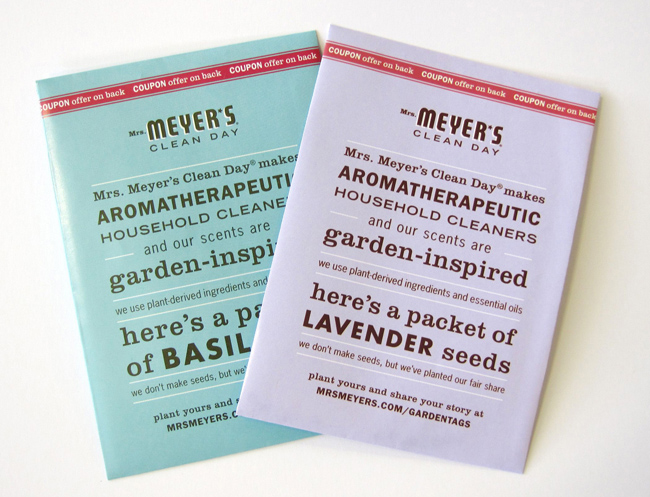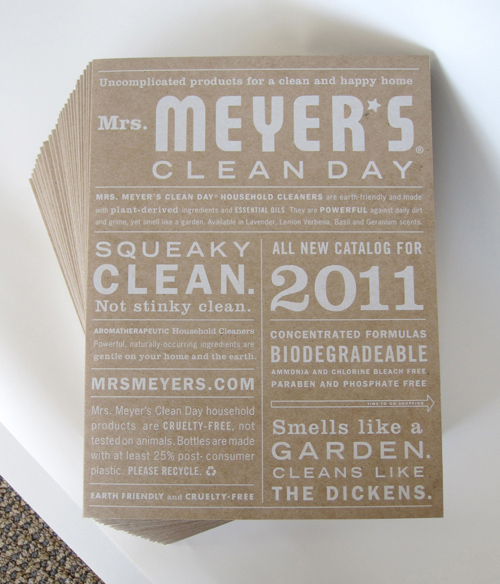 Another successful element is the brand's "voice." The writing throughout the packaging, promotional videos, and the Web is consistently clear and brilliantly reinforces the homespun "smells like the garden and cleans like the dickens" strategy of this brand. That Mrs. Meyer's Clean Day stands out is a feat. Consumers have a lot of green brands choose from — and that's certainly good news for the planet, if not the brands battling for market power.