People are making movies, commercials, and music videos using nothing but the cameras on their iPhones nowadays, but what about directing live TV? You know, the kind of thing where a guy in headphones yells at a bunch of little screens representing multiple cameras: "Ready camera one! Take one! Zoom camera two!" Now, with an app called CollabraCam, you can wirelessly link four iPhone, iPad 2, or iPod Touch cameras and direct their coverage like you're Holly Hunter in Broadcast News.
The app's interface looks simple but ingenious: Just like Mr. Headphones in a TV control room, it displays a grid of streaming visual feeds from the four cameras all at once so you can see the big picture and edit live coverage on the fly. It can record the live-directed stream as you call the shots, send visual cues to your camera operators' screens to pan, zoom, or tilt, and even use the iPhone's powerful flash as a dedicated eyelight. And you can export the clips via iTunes for editing on a big-boy machine, or just spit out a 640×480 rough cut right from your iThing.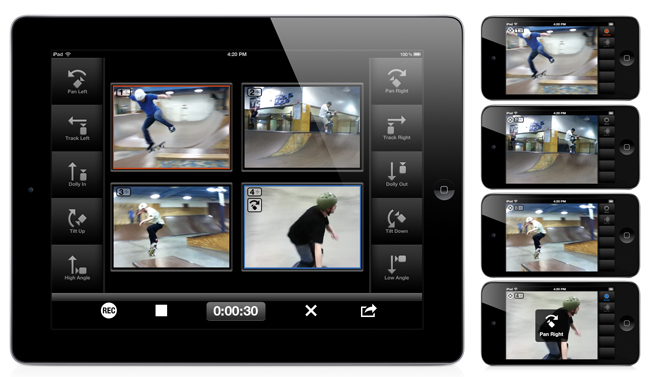 The fun all happens via Wi-Fi, so if you roll with a laptop and mobile hotspot (who doesn't these days?), you're good to go. You can even set up an ad-hoc wireless network to stream the connected cameras if there's no Internet service. Summer concert season is coming up: Using CollabraCam, even the brokest indie band can deploy little five-person iCrews to live-shoot the set just like they were the Rolling Stones. At the very least, the resulting YouTube videos will have better production values.