The London Organising Committee of the Olympic and Paralympic Games showed off its new prototype for the 2012 Olympics torch yesterday, and it's straight-up blingasmic. A sparkling, perforated gold metallic tube, it'd look right at home on Kanye's mantel — all the more so because it is shaped, as one writer suggests, like a giant spliff.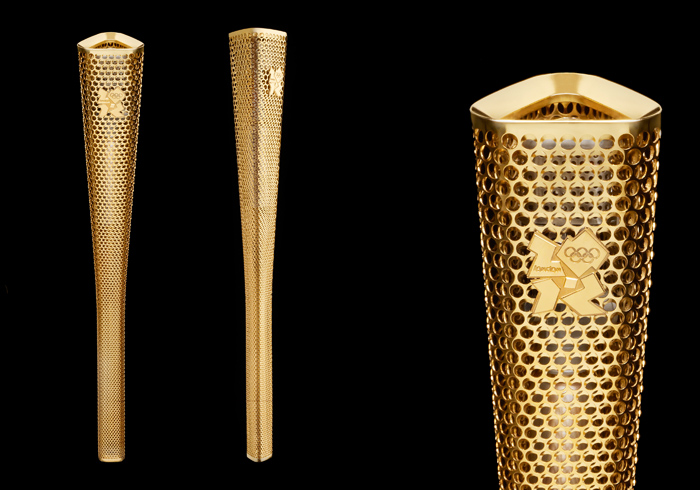 Other likenesses floated in the British press, per the BBC, include: a torch, a cheese grater, a cigarette holder, a piece of bent chicken wire, and not a sex toy, in reference to the unfortunate visual convergences between the torch of the 1992 Winter Olympics and something you could snap up at Good Vibrations.
Uh, thanks? The torch was conceived by Edward Barber and Jay Osgerby, the unfussy British furniture and industrial designers of BarberOsgerby, and despite all the sneering similes conjured up here, the design has got some thoughtful touches: The body has 8,000 holes to represent the 8,000 people who will carry the torch. As a result, it's much lighter than solid metal, making it easier to lug around. The perforations also help heat dissipate quickly, which means it won't conduct down the handle (and burn the torchbearer's hand). As for the spliff shape: To hear the PR folks tell it, it's meant to look like a triangle, whose three sides are informed by the multiples of three that stretch across the vision of the Olympic Games (the Olympics has three official values, its motto has three words, etc.).