Earlier this month, FIFA authorities dealt the Iranian women's soccer team a terrible blow when they dismissed players from an Olympic pre-qualifier for wearing Islamic headscarves. Officials claimed that the garments, which veiled athletes? necks and heads, violated the organization's dress code and posed a potential safety threat. Their reasoning is pretty dubious, but still, we've got to wonder: Could a well-designed headscarf appease both FIFA and Muslim women alike?
Elham Seyed Javad, general director of ResportOn and an Iranian-born French-Canadian designer, hopes so. Her sleek "sports hijab" is customized for female Muslim athletes who want to take the field in full head-and-neck cover. The scarf is a tight-fitting hood that attaches to a high-collared T-shirt and is made of stretchy, fast-drying fabric. An internal pouch keeps hair away from the neck, and wearers can adjust their hair through an opening at the back. The company's tagline: "Be yourself. Unveil your performance."
FIFA has included headscarves in a larger rule against players who "use equipment or wear anything that is dangerous to himself or another player…" since 2007. How, exactly, a headscarf passes as dangerous is something of a mystery. (And never mind that by that rationale, FIFA might as well ban ponytails.) A player could, we suppose, yank an opponent's loose headscarf and use it as some kind of strangulation device. But a snug-fitting garment, such as Javad's and, to a lesser extent, the one the Iranian women's team wore? As American Progress's Alyssa Rosenberg points out: to "ban closer-fitting headscarves on safety grounds seems like fairly dramatic overstretch. This ain't Quidditch; people aren't going to be mysteriously attached by their own well-designed equipment."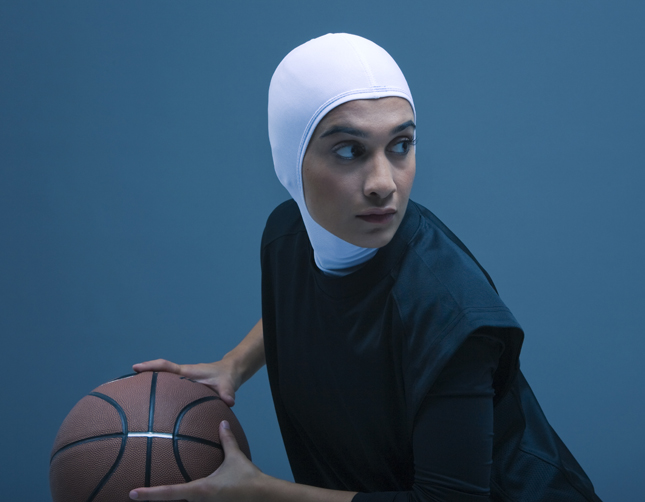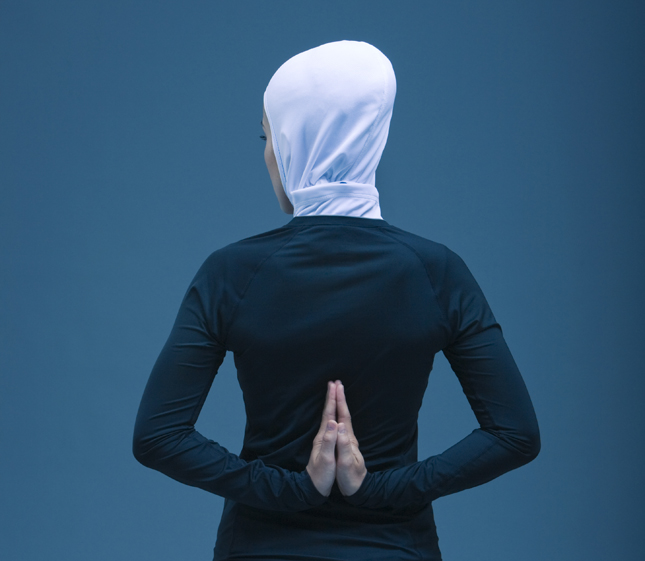 Javad tells Co.Design that she submitted the sports hijab to FIFA and other sports federations, like the body governing Taekwondo, in hopes that they'll approve the design for international competition. It's tough to say whether she — and, more to the point, the Muslim women whose athletic careers are at stake here — will triumph. To judge by the pictures, Javad's hijab is awfully similar to the one that got the Iranian women's team booted out of competition in the first place, though the former appears slicker and tighter. (And ultimately, this is just a small design solution to a much larger cultural issue.) Besides, everyone knows that as long as Sepp Blatter's around, there's a good chance that the only wardrobe overhaul he'll oversee is the sort that makes female players look like Hooters waitresses.
[Images couresy of ResportOn]