Most of us who work in open-plan offices think there's plenty of communication between coworkers — too much, in fact, with every chewed banana and crunched chip and shrill phone conversation broadcast indiscriminately throughout the space.
Artist Anne-Laure Maison believes there's not enough. At the office of Le Groupe Matelsom, a French home furnishings company, she painted neon pink lines on the carpet to give visual form to what she perceived as a sore lack of communication between coworkers.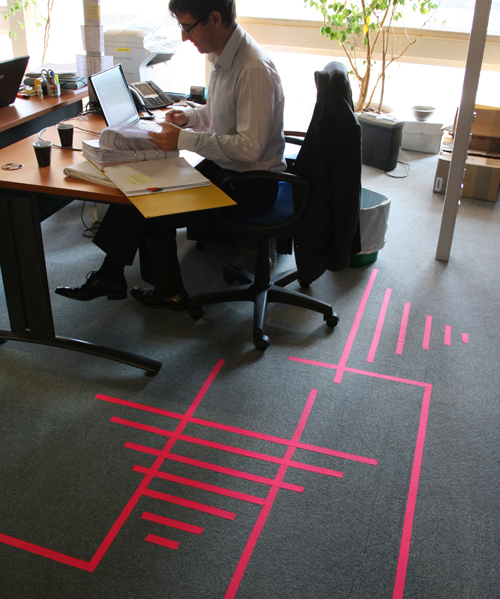 As you can see, the lines weave around the space like car lanes, showing the physical distances from one desk to the next, from one wing of the office to another. Le Groupe Matelsom claims on its website that this simple artistic intervention went a long way toward improving the company's corporate culture. In bullet points (translated via Google, so don't get all judgy about the weird English here), the art managed to:
? Stimulate creativity and innovation
? Supporting change: addressing sensitive issues, optimize the flow of trade…
? Promoting the heritage and improve the working environment: promote ownership of the place, a sense of pride and belonging, place of aesthetics and dreams in a practical setting.
Geez, that makes Maison's work sound downright magical. Note, however, that the bullet points don't say anything about invigorating communication among employees — nor does the rest of the text. This might very well be a translation issue. Or it might be that, while the lines highlighted a communication gap, they didn't do much to bridge it. Which wouldn't be terribly surprising. Tendentious gum-smacking will send anyone straight for the noise-canceling headphones no matter what the carpet looks like.
[Images courtesy of Anne-Laure Maison; hat tip to Notcot] SL