Facebook and Twitter profiles are, to a degree, reflections of who you are — from the friends you choose to the topics you follow. Likewise, what you watch on TV represents personal choices: Are you a Dexter fanatic? Maybe more of a cerebral The Wire person? Regardless of the show that defines you, there's usually a gap between your level of passion about a show or character and your ability to express that passion through social media habits. Currently, the best you can do is talk your partner's ear off or "like" a show. Enter HBO Connect.
HBO and many of its premium-content rivals know what they've got: great content. Just ask Netflix CEO Reed Hastings, who's been dangling verbal carrots to get HBO shows on Netflix on Demand. HBO's programming naturally generates conversations about plot, characters, actors, and so on. HBO could have taken the conventional route of placing a Facebook feed on its main site, showing viewers which of their friends "like" a show. It could have depended entirely on their audiences? HBO-generated conversations outside of HBO.com — not a bad approach per se. Instead, it opted to take its audiences? passions for content and characters and aggregate them in one useful place.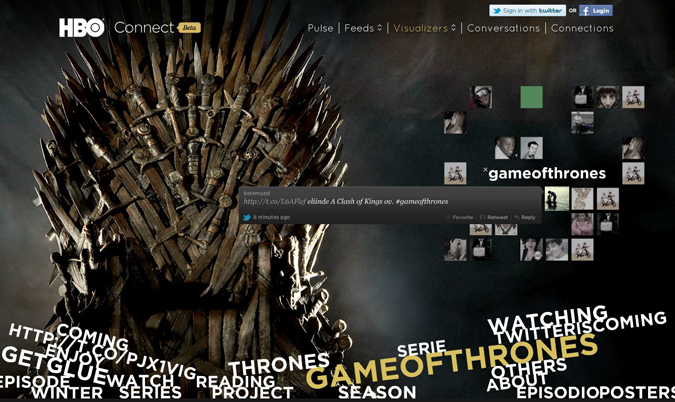 [The word cloud at the bottom of the page shows clickable subjects, which brings up Twitter conversations around it]
HBO Connect is a solid attempt to direct interaction and conversation to HBO's site — and away from independent social networks — without losing the benefits of content affinity and personal connection. HBO didn't alienate social media audiences; it worked on their terms. Taken further, audiences can interact with actors on HBO Connect and have those exchanges published to external communities at the same time for others to see.
The site's true potential reveals itself in Feeds and Conversations.
The true potential of HBO Connect reveals itself in the Feeds and Conversations features of the site. The Feeds area is designed around one's favorite show (in my case, TrueBlood) but provides a simple layout of the social land by pulling pertinent content from Twitter (real-time), YouTube, and Facebook without being obnoxious about it. HBO designed the Live feed simply and elegantly, but the aggregation of live feed data has been done before (even newspapers experimented with the idea during elections). It's the Conversations area that really starts to show the power of audience development on the audiences? terms.
I?m a huge Wendell Pierce fan. From his work on Sleepers (yes, I liked Sleepers) to The Wire, I've always enjoyed his acting. Do I like him enough to connect to with him on a social network? Maybe not. Yet HBO is providing me an exclusive capability to participate in a live chat with him. Again, live chats have been around a long time. But by combining the social network strengths in the Feeds section of the site with HBO's ability to have me crave more content (the Conversations area of the site), I might revisit Connect to read the aggregated comments. I'll do that knowing that HBO filtered the conversation for me in a clean design, rather than using social-network searches and filters.
From HBO's perspective. it can't hurt that I've "liked" Wendell Pierce and participated in the live chat (or even visited HBO Connect to read it) as a result of one of my friends doing the same thing. And if I choose to read via Twitter or Facebook, who cares! HBO is doing what it does best — generating conversations around its content regardless of where those conversations take place. Connect is one more tool to generate some talk and guide it. There's more development to be done, but this is certainly an interesting start!
[Top image: A still from Game of Thrones, of the first shows which HBO used to promote HBO Go, via exclusive preview episodes]