3-D printing was supposed to liberate the masses to become product designers — design to object, one step, no fuss and no muss. Unfortunately, as Technology Review bluntly puts it, "the reality is that if you want to make anything more complex than a plastic brick, you'll soon run up against the limitations of rapid manufacturing processes." If only there were a magic wand that could take your latest rendering masterpiece and tell you quickly how easy or difficult it would be to actually manufacture! Some researchers have created a computer program that does just that — it even color-codes your design to highlight which portions will be easy or tough to realize in real life.
Olivier Kerbrat and his colleagues at the Institut de Recherche en Communications et Cybernétique de Nantes in France have published a paper on the ArXiv demonstrating their proof of concept: an algorithm that breaks down 3-D shapes, analyzes them for feasibility given the capabilities of rapid-manufacturing technology and tolerances of physical materials, and then marks each piece with a color: blue for the easy parts, red for the hard parts. The team has already tested it on some auto-part designs with promising results.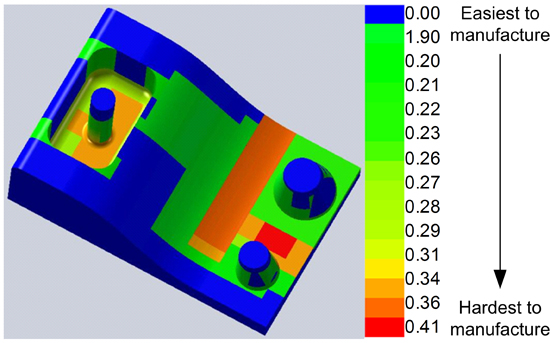 The idea is to give designers a preview of how to adjust their designs to fit their physical means. After analysis, the designer can go back and tweak the project, or simply use it as a tool for illuminating some manufacturing challenges they might not have anticipated. Not every product design can come out "all blue" — that is, easy-peasy for a rapid-manufacturing machine to spit out. By using Kerbat et al.'s algorithm, designers can see how their product may have to be broken down into pieces that get fabbed in different ways that maximize feasibility and reduce cost. One part of it could be laser-sintered; another could be laser-cut.
Or none of the above — or all of the above. The point is to simply provide designers with more information so that they can get from idea to prototype (or product) as frictionlessly as possible. By mapping the output of various tolerances, calculations and optimizations onto a simple, intuitive visual report, their work could make industrial designers' jobs much easier — or, as Technology Review rightly notes, even change their whole process.
[Top image by Nanao Wagatsuma | Read more at Technology Review | Read the ArXiv paper]