The following is an excerpt from the new book Mid-Century Ads: Advertising from the Mad Men Era, by Jim Heimann and Steven Heller (Taschen, 2012)—Eds.
From 1945 to the late 1960s the advertising business evolved rapidly, first reflecting and then boldly redefining the ways Americans thought and bought. Advertising had stagnated during the war years of 1941–45 as the nation focused on patriotism and productivity. Once peace was at hand, advertising resumed at an accelerated pace—selling products and optimism to returning soldiers and war workers, an expanding middle class who craved material rewards after enduring economic depression and a world war. As America's gross national product rose, from around $100 billion in 1940 to $300 billion in 1950 and more than $500 billion in 1960, the business of selling to America was serious.
At first, advertising agencies were content to again sell cars and refrigerators, pancakes and beer, much as they had before the war: with ads heavy on copy, testimonials, and pictorialism. Prewar strategies prevailed and the visual styles, with few exceptions, seemed to have reached a plateau. Even with the arrival of new technology, especially television, ways of selling to the public remained static. But American society itself was evolving as a result of such wartime phenomena as cultural interaction, women's greater role in the workplace, and of surviving years of deprivation, rationing, and mortal threat. Change was in the air.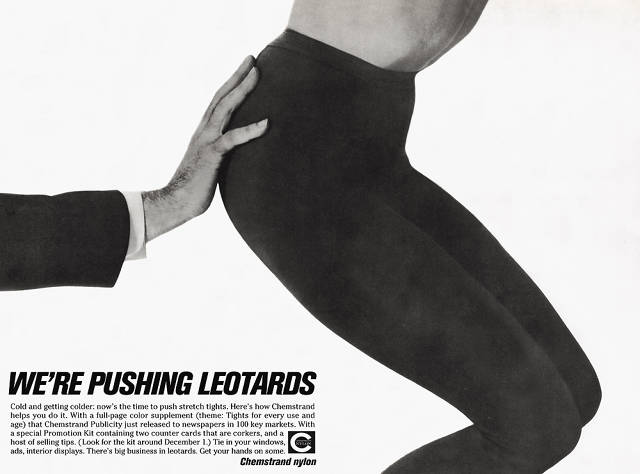 When the Doyle Dane Bernbach advertising agency opened in 1949 on Madison Avenue, barriers began to fall. The more freewheeling elements of postwar America began to emerge: Humor, simplicity, and satire, along with the absorption of modernism and abstract art and ideas, coalesced into a new approach. Nonconformity personified by Jack Kerouac and the Beats and adult humor from the likes of Shelley Berman, Bob Newhart, and Lenny Bruce tweaked the cultural landscape and spawned such ad personalities as Stan Freberg, an endearingly irreverent radio, recording, and TV personality. Freberg's satirical approach, when applied to the world of advertising, injected wry humor into products once held sacrosanct, a new pitch that fit the times.
DDB's integration of visuals and copy in a restrained and intelligent manner redefined what advertising could be. Rather than visually bombarding the customer with busy elements, it favored the simplicity of large graphics and clever copy. This followed the modernist principles established in Europe and modified in America. Paul Rand and Alvin Lustig, high-style designers versed in European modernism, played a pivotal role in presenting to the public this more sophisticated visual approach. Lustig's New Directions book covers, Alex Steinweiss's album cover art, Olivetti typewriter ads by Giovanni Pintori, and the Container Corporation of America's sophisticated "Great Ideas of Western Man" campaign were brilliant, and DDB assimilated these currents. Its early success with campaigns for Ohrbach's department store inspired other agencies, and the "new advertising" was on its way.
Centered around New York City's now-famous Madison Avenue, the advertising business was just one of the many magnets for creative types who flocked to the city, creating a mid-century center for commerce, culture, and art. From these creative minds would erupt memorable campaigns that captured the public's attention and embedded into pop culture images such as the Marlboro Man and catch phrases such as "Think Small," "I'd Rather Fight Than Switch," "We Try Harder," and "Does She or Doesn't She?" DDB and a few of its competitors were pioneers at first, and creative advertising evolved slowly, blossoming ever more vibrantly as the buttoned-down Fifties gave way to the psychedelic Sixties.
This new approach to advertising was not limited to New York. Although the majority of advertising business was generated from there, other cities such as Chicago, Los Angeles, and San Francisco also contributed to the creative milieu. Carson Roberts, a boutique agency in Los Angeles, churned out clever campaigns for Baskin-Robbins ice cream and came up with the "31 flavors" concept, executed by recent art school graduate Ed Ruscha. In San Francisco the Joseph Magnin department store created mold-breaking fashion ads illustrated by Betty Brader. From the same city Howard Gossage performed nonconformist tricks and clever copy and introduced media guru Marshall McLuhan to the world. Hungarian designer László Moholy-Nagy founded the Institute of Design in Chicago in 1944, and with workshops by György Kepes established a modernist approach to advertising design that would rival that of New York. Also emanating from Chicago was the design program of the Container Corporation of America, under the patronage of founder Walter Paepcke. His mandate to challenge the design establishment altered the everyday advertising of It was a fertile time for the advertising world. The era of the "Mad Men" was in full swing.
While this new advertising was effective and reflected a certain aspect of the buying public, mainstream print ads more or less pandered to middlebrow tastes. With the exception of the witty Volkswagen campaign initiated in 1959, an anomaly amid the more prosaic advertising, the automobile industry avoided anything that would seem too sophisticated to car buyers for fear of alienating them. Hence, many auto ads from the Fifties and Sixties reflect the middle-class perspective while at the same time trying to sell luxury and status in their products. Food products also received this restrained effort. In order to not alienate consumers with abstraction and hard-to-understand ideas, illustration, which the public had been comfortable with for its more literal approach and its usage for the first four decades of the twentieth century, was still frequently used. But by the late Fifties illustrative solutions would be edged out by photography and its more realistic images, a condition advanced by improved photographic techniques and the rise of television, a medium that Americans had wholeheartedly embraced.
As the Sixties approached the halfway mark, values were being upended. Vigorous campaigns for civil rights and against the Vietnam War, growing awareness of environmental issues, social-justice concerns, the sexual revolution, and other movements were rapidly changing the way Americans viewed things. The advertising world usually lagged a few beats behind both in responding to these changes and in incorporating new visual styles into ads. This misstep would eventually stall the creativity of the previous twenty years and herald a more conventional direction in advertising.
The digital world has now become the preeminent realm of advertising. The global Internet can instantaneously attract a buying public and is again revolutionizing the business of advertising. In this era of multitasking, stimulus overload, and shrinking attention spans, there is renewed interest in the now-fading world of American print advertising, fueling a reconnection with a modernist past and inspiring such television series as Mad Men. In retrospect these ads can be perceived as an ideal view of American society while also presenting a skewed perspective of the cultural zeitgeist. One way or the other, for most of the twentieth century American print advertising was a window into the way things were.

Buy Mad Men for $59.99.
[Images courtesy of Taschen]