Contradictory attitudes towards work are endemic to the tech community: Work 16 hours a day! But do so while sitting in a bean bag chair, because, you know, that's fun! Don't be evil! But remember that you're privileged to work here!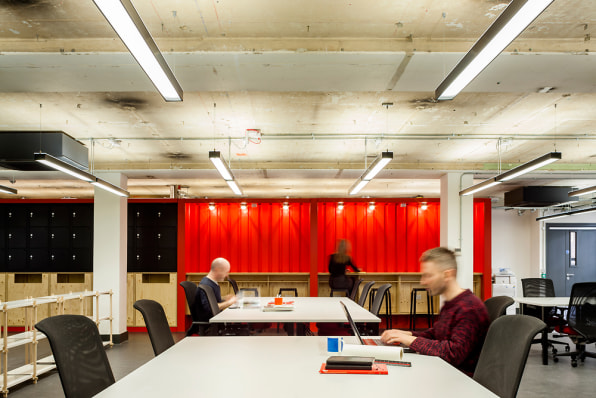 The pace of work at tech companies can be overwhelming, and in response, many employers have set up robust infrastructure that encourages a balance between work and play. For example, Google sponsors its own bike design competition, among other more fickle pleasures like its legendary cafeteria. A popular Google class on focus and mindfulness encourages employees to slow down and concentrate on themselves. This careful playfulness, essential to a creative workplace, carries over into the architecture of the workplace: slides, quirky themed rooms, and poppy supergraphics abound at many Google offices.
A newly opened Google London campus forgoes the twee, primary colors, and bean bag chairs of its stateside sister offices, opting instead to emphasize flexibility and functionality.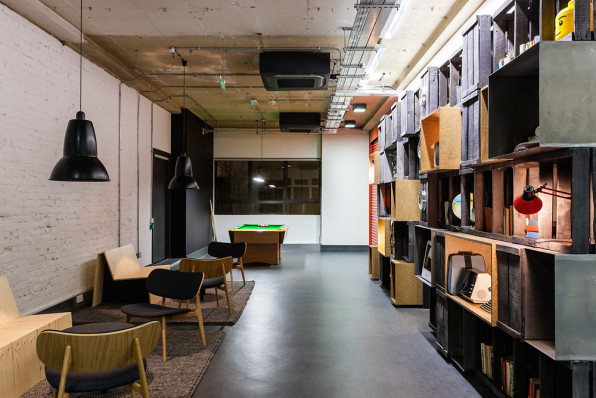 Google asked U.K. design office Jump Studios to renovate a seven-story industrial building on London's "Silicon Roundabout" last year. The campus would serve as an incubator for young startups, while also hosting events and lectures (comparable to Google's Chelsea Market campus here in New York), and Jump wanted to speak directly to the young entrepreneurs who would populate the offices. According to the architects, they entered design development imagining the space as a garage or workshop, since "these young startups are just about to kick off their careers."
Jump's first move was to gut the pre-existing divisions, leaving the structure of the building exposed. Working with the raw shell of the old building, the studio parsed the large spaces into open "socialized" areas and intimate work hubs using glass walls and reclaimed shipping containers. Abundant co-working spaces, an amphitheater and cafe, and a 40-bike storage area round out the campus's programs.
Despite the industrial details and simple colors, the London campus still toes the Google party line in some respects. For example, a whimsical "inspiration wall" made from reclaimed vegetable crates dominates the entryway, displaying books, icons, and artifacts of 20th-century technology.
Still, the office is a nicely detailed example of how some of the tech community's smarter ideas about space (co-working, socialized spaces, incubation) are being pushed forward through design.