The sight of one Maneki Neko, or "Lucky Cat," beckoning to you from behind a shop window is cute–if you even happen to notice it at all. There's definitely no way to miss the stares of the 520 felines in media artist Boris Petrovsky's Global Pursuit of Happiness, an installation which debuted at Stuttgart's recent Art Karlsruhe fair, and the cumulative effect is mesmerizing.
"It's immersive," Petrovsky tells Co.Design of his decision to use stadium-style tiers to present the "Army of Luck." "You have to turn your head up, down, right, and left to see the extent of the show." He spent three years working on the project and perfecting the mechanics that would have the clowder raising and lowering their arms in unison with 25 different gestures (including, of course, The Wave). Petrovsky also developed a clever way for visitors to interact with the golden group, lest they lessen their reputation as the harbingers of good fortune. Specially designed postcards made an encouraging promise: "Your happiness is our lucky command." Wishes were written down, then typed into a keyboard behind the scenes. The coordinated servo motors that controlled the tabbies transformed their limbs into a scrolling marquee, each letter traveling across the shiny facade as a seven-by-nine-foot grid.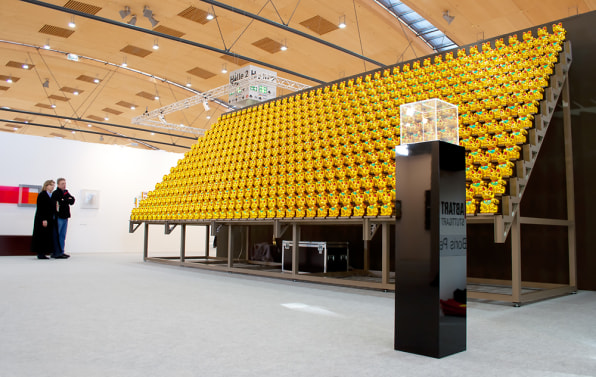 The sentences also triggered audio clips at random, with samples sourced from political speeches, sporting events, demonstrations, parades, accidents, and entertainment from the 20th century to today. "They express states of mind: joy, euphoria, desire, fear, hate, aggression and resignation, astonishment, outrage, pain, panic, desperation and fanatical excitement. I associate these with what drives people towards their own pursuit of happiness," he says. The display had such an impact that the paws' up and down movement became a "common greeting" at the fair. Best start practicing your technique!
(H/T Ignant)