Last week, the Museum of Arts and Design in New York kicked off a retrospective dedicated solely to VHS film. DVDs may have eclipsed videotape years ago, but we're still nostalgic for the rickety plastic cassettes of yore. There's something about the exposed magnetized spools–it's like being able to see into your own body. And compact discs (or MP4 files) just don't have the same I-taped-over-your-dance-recital-to-record-the-new-Beastie-Boys-video tactility.
VHS tape has fascinated New York-based Lithuanian artist Zilvinas Kempinas for a decade. "It's supposed to be this safe container of the past," he explained in this 2009 Museo interview. "But it is destined to vanish like a dinosaur, to become obsolete, pushed away by new technologies."
Kempinas began his career working with microfiche and 35mm film, but soon graduated to VHS, seduced by the long spools of reflective, lightweight tape. In 2006, he began using unwound tape to create architectural space. In Parallels (2007), the artist strung thousands of lines of tape across the ceiling of the Contemporary Art Center in Vilnius. He experimented with setting celluloid in motion: In Double O, a piece from 2008 (and shown at MoMA in 2010), two high-powered fans keep two reels of tape airborne in erratic motion. A residency at Atelier Calder produced Tube, a circular walkway of tightly threaded tape that produced eerie optical illusions.
Kempinas was selected to represent Lithuania at the 2009 Venice Biennale. He reconstructed and enlarged Tube in a famed Scuola Grande della Misericordia, built by Jacopo Sansovino in the 16th century. In Tube, Kempinas painstakingly strung thousands of feet of unspooled VHS tape between two white doorways, creating a featherlight portal of rippling black lines. Walking through the portal, the strings of tape dance and undulate around you. From certain angles, the strands disappear. From other angles, they reflect their surroundings.
What Kempinas is doing, in essence, is drawing with celluloid. "Videotape is inexpensive," the artist commented in 2009. "It's a container of visual information, data carrier, but you can perceive it like an abstract line."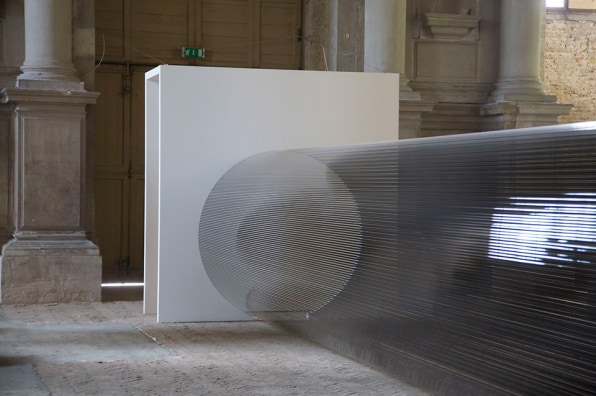 [Images courtesy of Galerija Vartai; h/t Architizer]