In Copenhagen (and most northern European locales), summer is a fleetingly short respite from a long, bleak winter–in other words, time to party. One of the biggest and wildest is Copenhagen Distortion, a 14-year-old tradition that brings out hundreds of thousands of people for all-night dance parties in clubs all over the city, and more often, in the street.
Two years ago, Distortion's organizers invited a group of Danish and American architecture students to build a roving headquarters for the party, a mobile pavilion that could provide a tangible hub for street revelers. The goal, say the project organizers, was to "give architectural expression to this Dionysian experience."
The students hailed from experimental technology and acoustics programs at the Royal School of Architecture, CITA (the center for IT and Architecture), and New York's Rensaeller Polytechnic Institute, bringing a diverse group of skill sets and backgrounds to the table. Working over the course of just a few weeks, the group conceptualized a pavilion that could rotate and move like a piece of fabric, adaptable to the perpetual motion of the street parties. Using physics-based simulation software and parametric modeling, they came up with a shelter made of 151 hinged plywood triangles mounted on a series of hinges. The conical shapes amplify and distort sound, and a coppery reflective finish turns the pavilion into a kind of kaleidoscope. More like a piece of chain mail than a textile, the pavilion's hinged skeleton can be infinitely adjusted, folded, and "crumpled" into different orientations.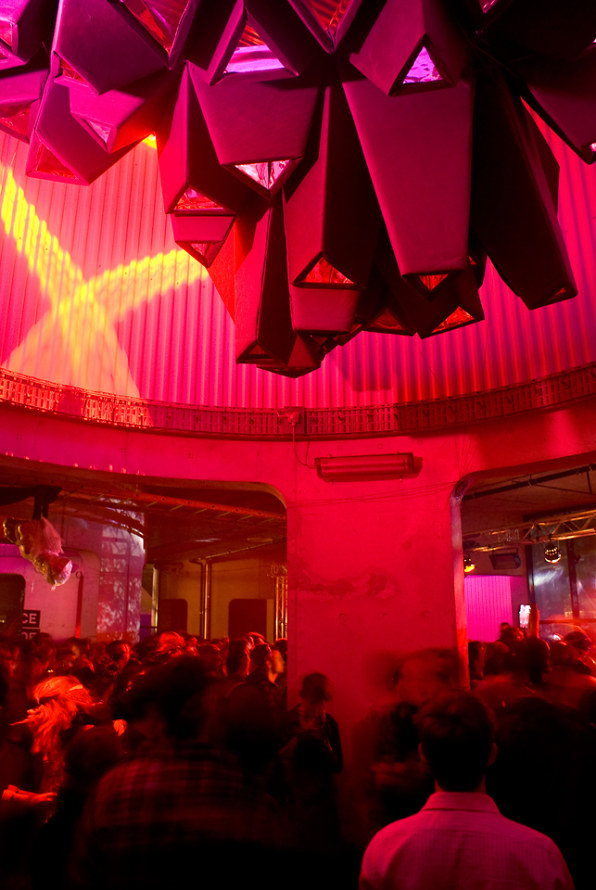 "It layers intimacy with exposure, dark with light, noise with quiet and amplifies the extremes of each," write the designers in a press release. "Aggregations of the soft cones form dark nooks of dampened sound that open up to a vault of fractal reflections of exploding color and music from the festival."
During Distortion, the pavilion popped up in a club, at an outdoor concert, in a lobby, and of course, in the street. Considering the festival's reputation, it's safe to say that it may have hosted a few vision quests, too.
[H/t eVolo]