The African-born, German-educated architect Diébédo Francis Kéré earned a slew of international awards for a school he designed in Burkina Faso that used mud bricks and corrugated iron to create natural convection cooling.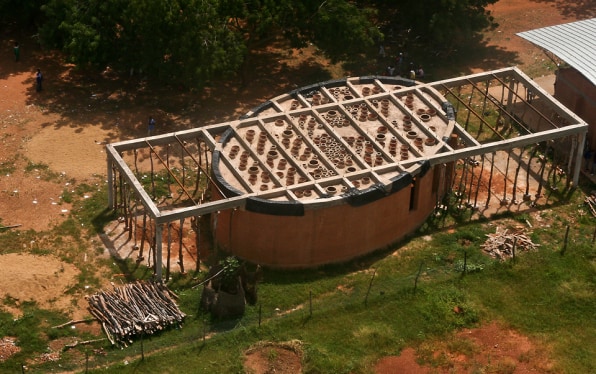 Now, Kéré has raised the innovation bar by using local pottery to create light and ventilation in a library adjacent to the school. Kéré, the son of the village chief in the desperately poor village of Gando, had previously marshaled the tribe's men to fashion some 2,000 clay bricks a day to build the school. More recently, he turned to the local women for help, urging them to bring the clay pots they traditionally make for cooking and carrying water to the schoolyard, where his workmen cut them to be open both at the bottom and top. They were then cast into the library's concrete ceiling, creating holes to the open air.
Kéré then constructed a corrugated iron roof above the concrete ceiling, which heats up in the sun, drawing air from inside the library up through the clay pot holes to cool the room below.
The result is an elliptical, airy space, lit with dappled light, that's a welcome refuge from the region's blistering 104-degree heat.
The library, which is open to all, has the added benefit of closing off the corner between the first school building and its recent extension, thereby sheltering the schoolyard from dust-carrying easterly winds.
A rectangular area around the library is enclosed by a façade of columns made of eucalyptus, which is normally thought of as a weed in the region but was adapted as a building material.
Kéré's clever use of innovative techniques married to indigenous materials has made him the poster child for sustainable architecture in developing countries. "What Kéré did is a model for architects working in other parts of the world," says Matilda McQuaid, deputy curatorial director of the Cooper-Hewitt and part of the curatorial team for the museum's National Design Triennial exhibition, Why Design Now? He showed what it means "not to impose but to make a partnership, to know the culture, and get buy-in."