When Scottish architect Robert Adam designed his masterwork–the neo-classical villa Kedleston Hall and its pleasure gardens–he probably never imagined it would end up hosting avant-garde art from his great-great-great-great-grandkids' generation.
But in a way, Adam was exactly that, in his own time. He stole the Kedleston commission from an older architect, and demolished the geometric gardens and stately grounds his predecessor had laid, eschewing tradition for serpentine lakes and asymmetrical vistas. It was about as avant-garde as landscape architecture got, in rural 1770s England.
Today, Kedleston Hall is home to a contemporary art program called Playful Spaces, which commissions British architects and artists to create site-specific art on the grounds. For example, in 2010, artist Susie MacMurray transformed the Hall with thousands of feet of shimmering gold threat. This week, London architects Studio Weave unveiled their contribution to the program: the Hear Heres, a series of four unusual audio sculptures scattered across the estate's gardens.
The Hear Heres are, at their simplest, architectural follies. Each is sculpted from fiberglass and coated in zinc, propped up on steel stilts, positioned to amplify a particular type of sound. One is pointed up in the air, another, at a lake. A third spirals up into a massive tree, like a massive ear trumpet. A fourth is positioned to let visitors experiment by speaking into each end. Similar projects, like these trumpets that magnify the sound of the ocean, or Anish Kapoor's Dismemberment Site 1, seem to have set a precedent for the studio.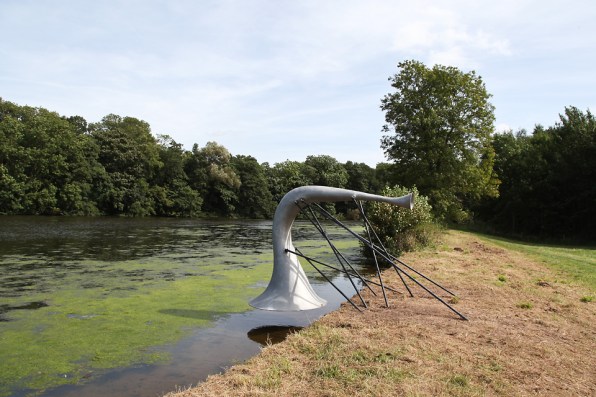 Studio Weave principal Je Ahn, speaking in a documentary about the sculptures, says he hopes the Hear Heres will inspire visitors to focus on a sense often ignored in parks: hearing. "We know it's beautiful," says Korean-born Ahn. "Let's listen." Whether intentionally or not, the pieces are engaging in an interesting dialogue with 260-year-old ideas about landscape architecture and nature. In Adam's time, young landscape architects experimented with calling attention to the natural beauty of the land, rather than creating an artificially pleasure garden. In a way, the Hear Heres do the same, calling attention to sounds of things that exist naturally: trees, wind, and water.
I wasn't familiar with Studio Weave, so I took a look at their website, which reveals them to be an eminently likeable crew (Ahn "eats lots of seafood," while co-director Maria Smith "sings and plays the violin and keeps an eye on her little sisters"). The young duo have cultivated an interesting, diverse project list–recent projects include a gold-leaf and timber monument to Geoffrey Chaucer, a line of salts made from different types of tears (sneezes, sorrow, etc.), and an office for a pedal-powered machine company under an abandoned aquaduct. It's worth checking out.
[H/t Dezeen]