You could say it started with a design brief. In a meeting in front of Ford's 11 global studios discussing the 2013 Ford Fusion, the carmaker's Chief Creative Officer J Mays passed along a rare edict: "We're going to do a car that looks 10-15k more expensive than it is."
Mays is all too familiar with the public's perception of the Ford brand. Sure, he's headed their design department for over a decade now, but before that, he spent the same amount of time running Audi, leading the brand down the stylish and sporty luxury path it's on today. He knows that Americans often have to settle to "buy American," and that European cars tend to dominate when it comes to style.
He also admits that changing the way customers view an automotive brand is "at least a decade-long process." Yet Mays's influence is already apparent. Look at Ford's latest line of automobiles, and you see Japan and Germany, the best bits of Honda, VW and, sure, even a little Audi. The 1990s family-mobile is nowhere to be seen. The implied rhetoric of "tradition" is gone. And Ford is actually becoming more American through all this change–it's becoming a melting pot.
"I'd argue that as much as designing cars over the last 13 years, I've tried to design the culture that will ultimately design those cars," Mays tells me. "The idea of taking a design staff of 1,100 people and doing a cultural shift in the way they think really comes down to stick-to-it-ivness."
The 2013 Ford Fusion is not simply an affordable sedan with a sheen of luxury, as the design brief defined. To Mays, it's the culmination of Ford's cultural shift–to make the brand a "place where we can start to create vehicles that have an international integrity, as opposed to being a nice car from the Midwest."
That Cultural Shift Started Years Before …
… Mays dared drop that design brief in front of his team. It started when he left Audi. In the move, Mays brought with him a slew of new management who understood luxury, having worked at luxury automobile companies themselves. "Luxury doesn't scream because it doesn't have to. Premium has the confidence to be a little bit quieter," he summarizes.
This premium-focused management intertwined with Ford's existing structure–a structure that's absolutely key to getting a car built.
Mays admits that he "lives on planes," grid skipping across Ford's 11 international design studios for three weeks a month. Roundtable teleconferences with the management heads of all Ford's studios are also a monthly occurrence. He travels so much because with a car, "you have to be there, rubbing your hands on it." And he meets with management so often because he knows it's up to them to disseminate knowledge to their studios.
I Imagine These Teleconferences to Be Ford's Version of the UN …
… But instead of arguing about trade embargoes, a manager-designer from Brazil lays his team's work down alongside a peer in Shanghai. Each idea is earnestly critiqued by the circle. It's a technique Mays learned from Pixar's John Lasseter when the two collaborated on the film Cars. Lasseter spent a lot of time at Ford's Dearborn facility, and the two became good friends.
"Over a couple of wine-fueled meetings talking about how the design process worked at Pixar, I learned more about getting people to honestly share their feelings about what the designs up on the wall looked like," Mays tells me. But it makes me wonder, can people–no matter how high or low they reside on the totem pole–be honest in these meetings when they also want to keep their jobs or schmooze their boss?
"You have to make sure they feel safe and protected," Mays says. "I've found that designers will be sidetracked by internal politics. 'Mr. X doesn't like this, therefore we shouldn't do it.' Or 'Mr. Y said resolutely they don't want to see this on the car.'"
To Mays, protecting his design team from corporate whim is the most important part of his job. So whenever these political statements arise in any meeting, large or small, he (or his managers) stop the meeting and refocus it.
He's also set up a "culture of learning and curiosity" within his design team, to push his designers to "think outside the [headquarters] of Dearborn, MI." This isn't just a metaphorical idea. He encourages design meetings to cover not just cars, but pop culture, film, and the culinary arts. Perhaps most importantly, Mays pushes his designers to literally get out of Dodge, err, Ford.
"If your entire life has been informed by what you know growing up in Detroit, the chances of designing for an international audience are going to be quite slim," he says. "Educating the design team, letting them know what's going on in the world, encouraging them to travel more–also giving them the opportunity to go and live in various places in the world–I'm able to put designers in different environments for two to three years.
"Send someone to Shanghai, they come back a different person. Send someone to Melbourne, they come back a different person."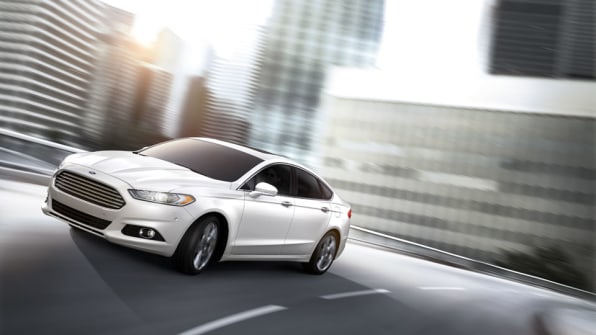 After Laying Out That Fusion Design Brief …
… Mays challenged each of the 11 studios to submit designs for a $23,000 car that looked like something almost twice as expensive. Three were crafted into clay models and put into an "internal competition." Management narrowed the three models down to just two. And then those models were handed to the customers to critique.
The winning design ended up in the hands of Dearborn, only because they're the closest design studio to the Fusion's engineering team. "That's not to say that Europe and Asia were not looming over," Mays stresses, adding that Dearborn's designs were critiqued regularly on Ford's conference calls.
Now, you may or may not like the 2013 Fusion, but its design details scream international. The headlights are intense slits, the silhouette is one-of-a-kind, and the entire hood is a pair of pleated pants that's ready to slice through the air at 90 mph. The Fusion is original without looking like a Scion, a bit sporty without looking like a Pontiac, a bit luxurious without cloning a BMW, and affordable without looking like a Kia.
Somewhere amongst all these places and languages, Ford is finding a new voice all its own.