There are several "slash" career titles that make sense. Singer/songwriter. Actor/model. Writer/director. Social worker/illustrator is less expected.
Yet for Wendy MacNaughton, the combination has been incredibly effective. MacNaughton is the force behind Meanwhile, a series of breathtakingly witty comics depicting San Francisco and its denizens. Chess players, public library workers, and winemakers: She devotes months to each group, learning their stories, sketching them, and publishing long illustrated narratives based on what they tell her. The mayor's office even turned her account of the San Francisco Public Library into a book–which it now gives out as a gift.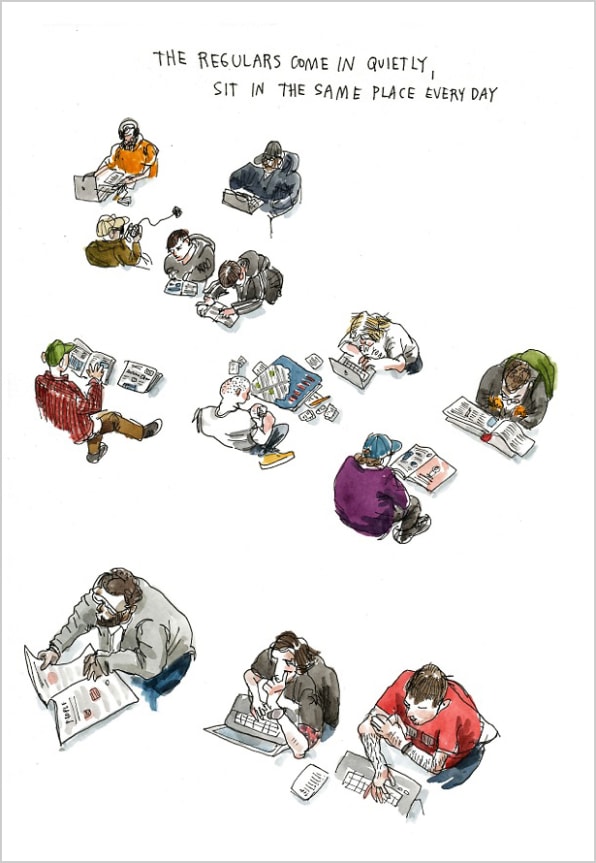 MacNaughton's path to illustration was unlikely. Like so many kids interested in art, she drifted away from drawing after she graduated from school. "I think art school kicks the drawing right out of you," she says. "I didn't draw for a long time." Instead, she took a copywriting job at a big-name ad agency in San Francisco–a job she found completely unfulfilling. When a friend offered her a temporary gig helping create an education campaign for Rwanda's first democratic local elections, she immediately accepted.
But the transition between jargon-filled American agency life and Rwandan culture was less than smooth. "Before arriving, I worried I would not be able to graphically circumvent the ethnic and political tension in Rwanda," she writes (she also made a documentary about the process). "After leaving, I understood that it is impossible for visual communication to circumvent anything… It showed me that I really needed to learn how to listen and ask questions before making recommendations."
Working in Rwanda made something else clear: She wanted to do something more meaningful than write copy for beer ads. Back home in San Francisco, she quit her agency job and went back to school for social work, taking a job running fundraising campaigns for nonprofits. That was when she started drawing again. "I was living in Oakland and commuting to San Francisco, and I started drawing on BART, sketching strangers and writing text, imagining what they were thinking." She posted her work on a then-anonymous blog and slowly gained a following. "I learned stealth," she says. "And I learned to notice details about people."
Soon, an editor friend at The Rumpus invited her to draw a monthly illustrated story about San Francisco. MacNaughton turned to the local chess players on Market Street, a vibrant community where mental illness and homelessness is common. "I got to step back into my social work shoes," she remembers. "Asking questions and hearing people's amazing stories–stories I wanted to share. And I went from there."
People who draw strangers–especially vulnerable strangers–can easily fall into exploitation territory (think tourists taking "artsy" photos of the homeless). But perhaps because of social work background, MacNaughton eschews traditional modes of street portraiture. She doesn't just get in and get out. Each story takes about a month to form. "I try to spend as much time as I can with people and put myself in their shoes. I listen, scribble down what they're saying, and take photos," she explains. "Then I come home and paint them." The particularly wonderful San Francisco Public Library (In Its Own Words) is both an ethnography, a map, a yearbook, and a story of a unique, complex social ecosystem. You can buy the printed version on Etsy.
There's something else very interesting about MacNaughton's drawings: how they're laid out on the digital page. Click on one of her stories on The Rumpus, and you'll be scrolling forever–each drawing has its own white space, forcing you to spend a certain amount of time with the story. "Your eyes move over a hand-drawn line differently than a digital one," she explains. "It interrupts the normal high-speed flow. It slows things down."
MacNaughton draws full-time these days, illustrating for Longshot and The New York Times. She's working on a second book, plus Pen & Ink, a Tumblr side project that documents tattoos and the stories behind them. "I got really lucky. The time around when I decided to draw full-time was right when people were maxing out on hard-edged Photoshop and Illustrator work," she says, pondering the resurgence of hand-drawn illustration on the web. "I think people really [respond to] handmade things, and stories with a human perspective–on the Internet specifically. It allows for space to breathe, and to relax."
Check out MacNaughton's lovely website here.