It's lunchtime at Facebook's New York headquarters, a relatively small satellite office for the social network that's filled predominantly with sales staff and engineers. As employees fill their plates with beef sandwiches and salad, they glance curiously at a quiet, T-shirted guy who's commandeered their ping-pong table. He's setting up a tray of bright orange paint for screen printing posters with the slogan "Likers Gonna Like."
He doesn't introduce himself. He barely explains the printing process. He basically just invites people up to try to print a poster of their own. The small crowd of diners, not wanting to appear too eager, gradually forms a line. They start asking questions. And quickly, you see how excited people are to hand-print a poster of their very own. A blue-shirted lunch lady looks on from a corner, totally flabbergasted as to how the heck this company is so successful.
It's hard not to immediately like Ben Barry, because he'll inevitably remind you of at least one friend you had in high school. He's the guy who cared less about test scores or prom court than he did old Doors LPs, Magic cards, and maybe a little manga. Outsiders probably called him shy or quiet, but you knew he'd chat up a storm if he cared about the conversation.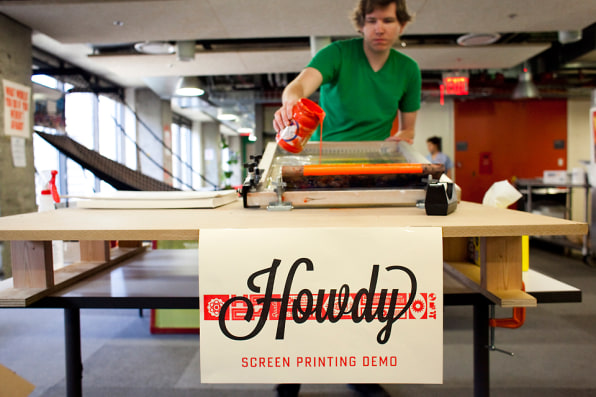 At Facebook, those creative diversions paid off. With the help of Everett Katigbak, Barry founded the company's Analog Research Lab, or what he admits is a fancy name for a print studio. It's a small space near Facebook's Menlo Park facility filled with screen-printing equipment, a couple of letter presses, a laser cutter, and a Risograph–basically a cross between a screen printer and laser copier for high-volume projects.
While about 50% of Barry's job is fairly traditional–devoted to maintaining brand standards like wikis full of the latest logos and typography–the other 50% is a somewhat self-guided exploration of reinforcing corporate culture through what Barry often calls "stuff." This stuff ranges from printing aspirational posters (of whatever unedited slogan he'd like) to consulting with architects on the Facebook work environment to what he's doing at this lunch today, convincing Facebook's notoriously engineer-driven crew to get their hands dirty with the artistic process.
"Obviously digital communications and the Internet are far superior for most information delivery, but there are certain things that when committed to physical form, it elevates their importance. It gives them this preciousness," Barry says. "To me, it's a strong signal. I think that as the Internet cannibalizes traditional print communication, what you're going to be left with is only stuff that's really high quality. And it's going to be a really high signal that this stuff is worth paying attention to."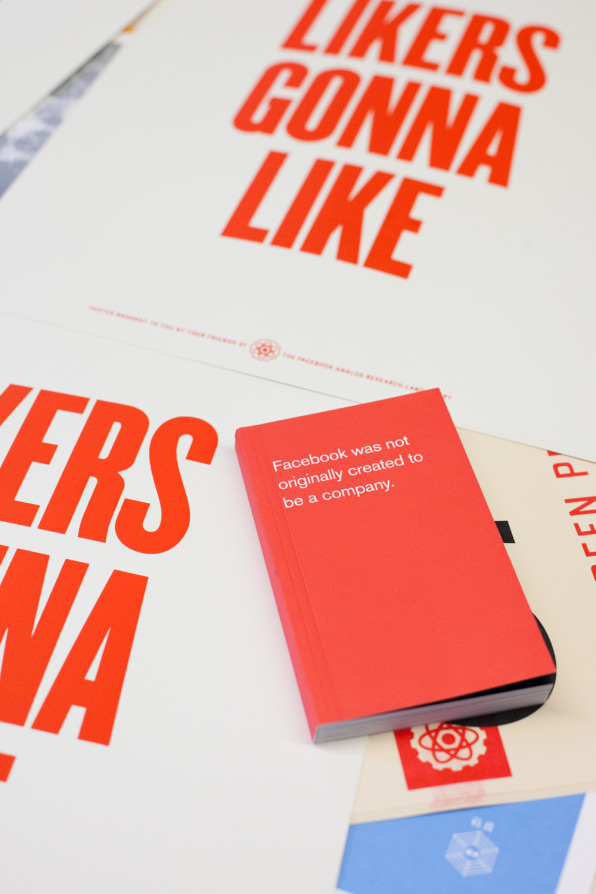 It'd be easy (and ever-so accurate) to pigeonhole the Analog Research Lab as Facebook's propaganda press–a thought that crosses my mind as Barry slides over his latest mass creation. It's actually a little red book (which I'm convinced must be ironic) that was placed on every employee's desk after Facebook recently acquired their billionth user. While I agreed not to divulge its specific contents, I will say that it's a beautiful piece of work, filled with global photography and countless original, inspirational one-liners that reference Facebook's humble origins, tireless work ethic, and hacker ethos. Its title? "Facebook was not originally created to be a company."
In most big businesses, a project like this book would be neutered through countless waves of committee-approved hell, filtering out whatever kernel of honest cultural messaging it may have once contained to appease VPs and HR. For Barry, he simply teamed up with another designer and requested funding. They brought in a copywriter. Mark Zuckerberg gave some feedback, and the small team "cranked it out in about a month."
"For stuff like that, there's a little more money involved with producing it, so we have to pitch the projects," Barry tells me. "But it's almost always us saying, 'Hey, this would be great.'"
And maybe it's just because Barry reminds me of an old high-school buddy archetype, but I buy his causal explanation of his unfettered creative process. He may have one of the most (if not the most) prominent voices behind the company's internal culture, but if Barry's the minister of propaganda, he's really pretty bad at the job. Anybody at Facebook is free to usurp his lab's equipment for an evening, just as anybody is free to take a can of spray paint to the office walls.
"I always laugh when people email me asking for permission to do stuff," he says. "And I'm like, I'm not the gatekeeper on this, just do it!"
Back in California, Barry and another designer teach screen-printing classes about once a week. It was never part of the plan to bring education into the mix, he explains, but now the Analog Research Lab is a popular field trip for teams throughout the company.
"It started because people would email me and be like, 'This would be a great poster!' I don't have time to print everything, so I'd say, 'Why don't you come print it, and I'll show you how?'" he says. But the effect was positive. "It makes [Facebook] more collaborative. People feel ownership. They get to see this stuff is made by hand, not spit out by a digital printer somewhere. And it gives them a much greater appreciation for all the stuff they see around them, which has been really awesome."
Now he's hoping to bring second-level classes into the mix and train "a small army" of Facebook employees to become screen-printing teachers themselves. The plan would create a self-sustaining artistic culture within the company. This self-driven ethos is something Facebook is investing in. It's also why, when Facbeook was migrating to their new offices in Menlo Park, Barry was a big proponent that designers leave the walls white and completely unadorned.
"We had lived in our previous building for several years, and it had accumulated all this cool stuff. And as we moved into this place we, as a company, collectively freaked out a bit. All these white walls–it felt wrong," he says. "But it was really important to me for it not to be done for people. They needed to take ownership and initiative to own their environment. Because I believe that when people have control over their physical space, it empowers them to take more risks in product development."
The Lab is also starting an artist-in-residency program to expose employees to more forms of analog creation. Artists who share the company's "hacker ethos" are invited to visit anywhere from two to six weeks purely to make things at Facebook.
"We try to just, like, invite them in and say, here's the campus, here's some money. What do you want to do?–not say, 'We want you to paint a mural here or do this there,'" Barry explains. "They leave their mark."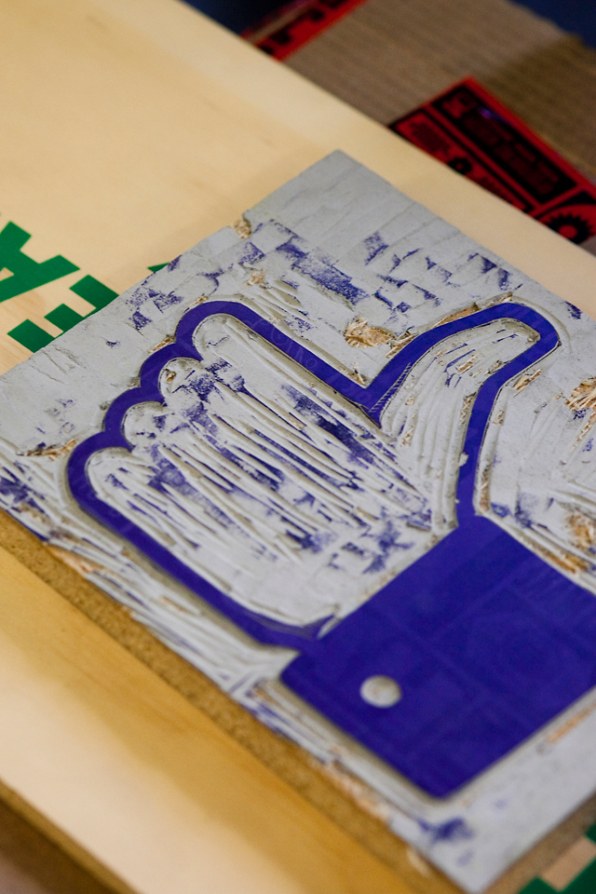 It's not until Facebook's lunch crowd loosens up a bit that I realize why everyone was so tentative to get printing–someone asks Barry to sign their poster. "Please make it out to eBay," they add, and the group laughs. Barry appears to be a bit of a celebrity.
Yet even in this photo-op that I've been invited to attend, I can sense the halo effect that analog art has in the room. The process repeats time and time again: A person rolls up their sleeves, nervously squeegeeing paint across paper. They lift away the screen, and their face brightens at the pristine results. They soak in the small miracle of printing. And then a moment later, their delight shifts to scrutiny, as I watched sales reps and engineers hone in on the slightest of imperfections in their posters.
And then they ask how they can make them better next time.
[Images: Drew Anthony Smith/Fast Company]