The architects at Parisian firm Atelier Zündel Cristea know that bridges can be destinations in and of themselves. "Think about the lovely Pont Neuf or Pont des Arts," one team member told me. "In Paris, you don't just cross a bridge … you admire the city from the bridge." But their proposal for the recent "A Bridge in Paris" competition would offer pedestrians an entirely new way of seeing the City of Lights–like, upside down. Instead of a staid walkway, AZC's proposed bridge calls for a series of inflatable, Seine-spanning trampolines.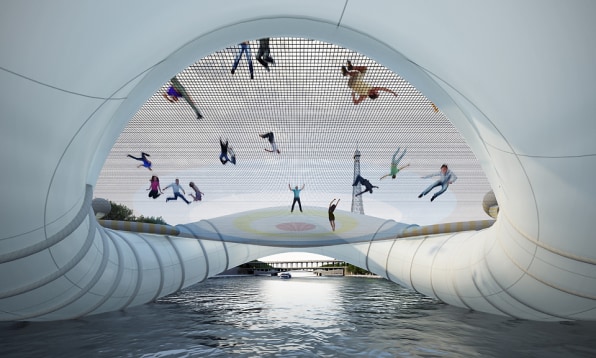 Dangerous? Maybe. Unrealistic? Probably. Really, really fun? Undeniably. The concept, which took third place in the competition, imagines a bridge made out of three giant trampolines, 30 meters in diameter, ringed by floating PVC buoys. Passersby would bounce across from one side of the Seine to the other–or, more likely, start to bounce from one side to the other, get caught up in the infectious joy of trampolining about halfway through, try a few backflips, see if they could launch their friends into the river, check out what the Eiffel Tower looks like upside down, and then continue on their way. The less adventurous, of course, could just use the Bir-Hakeim Bridge nearby.
But the idea didn't start with fun so much as eco-friendliness. An inflatable bridge, a team member explained, requires minimal construction and would have a negligible impact on the environment. But the bouncy buoys got the group thinking about other ways to impart some joy in their creation, something more "fun and frivolous … in a rather stressful city like Paris," and the trampoline bridge was born.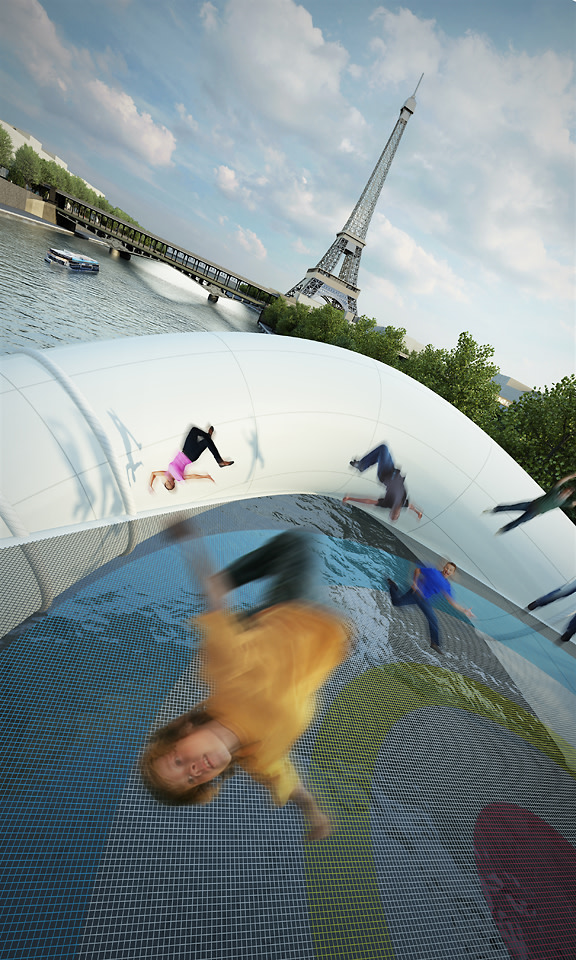 Though it's hard to imagine the wild dream of a trampoline bridge ever being realized in our buzzkillingly litigious society, the firm says it did try to keep safety in mind as it was putting the bridge together. The perimeter buoys are designed to be about 5 feet high, preventing any dismounts into the river below, accidental or otherwise, and guard rails are included on the walkways between the trampolines. See, Paris city officials? Totally safe! Now can we have it? Please?
[Hat tip: Designboom]