Hey, have you got any interest in paging through the annual report of a company you don't even work for? No, right? Because, wow, does that sound super boring. Conventional wisdom would have you believe it to be a big, tedious document full of visually dry facts, but Zumtobel's latest just might blow your mind. The lighting giant pulled out all the stops for its 2011–12 company dispatch, enlisting London- and Darmstadt-based studio (and avowed Pavement fans) Brighten the Corners and artist Anish Kapoor (seriously!) to beautify its findings in two complementary, but completely different, volumes.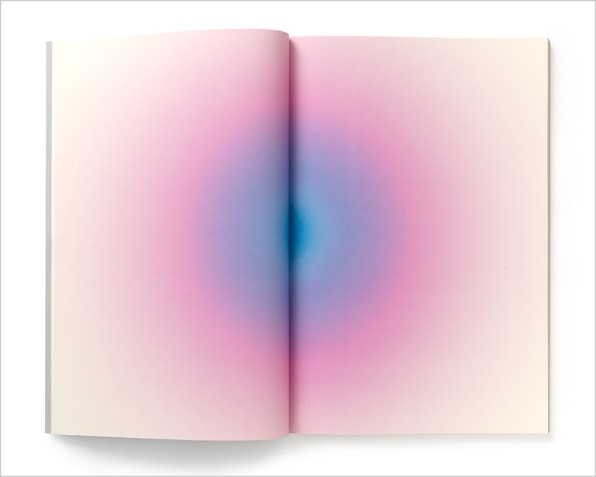 The project represents a confluence of successful working relationships that share a bit of history: In 2003, Zumtobel and Kapoor joined forces for Ode to Peter, a piece involving a computer-operated neon light, while Brighten the Corners did considerable research into the artist's work and approach when developing his website back in 2008 (and have since teamed up on a number of subsequent collaborations).
The creatives were given "complete freedom," says Brighten the Corners partner Billy Kiosoglou. "But the brief, naturally, was to involve 'light.'" After discussing a series of starting points, they settled on Kapoor's Wounds and Absent Objects as the main inspiration. From there, it was all about figuring out how to adapt that video loop of slowly pulsating and gradually changing color to the printed page. "From early on, the project became about 'translating' the environment of the gallery space (i.e., a dark room) into a book (i.e., folded paper)," Kiosoglou tells Co.Design. "It is a simple idea, but it means getting all the elements right: the print (neon inks), the size (large enough to swallow up the reader), the type of paper (a tactile, uncoated stock), and of course the gutter (which absent from the original work became the origin of light in the publication)."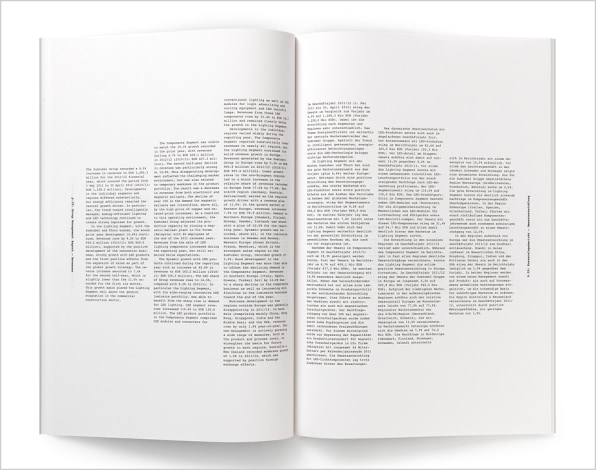 Then there was the matter of the actual annual report itself. The right font was crucial for the text-only book. "Courier is not self-conscious. It does a job and is not concerned with the way it looks, so in that sense it was just right," Kiosoglou says of the firm's decision to keep things consistent in the 8-point classic.
As for the disparate nature of the pair? "They belong together," Kiosoglou says. "We didn't want the figures getting in the way of the color book, but we also wanted people to feel that if they put the figures part in the bin they'd be losing something." Eight thousand copies were printed, which admittedly sounds like an lot, but maybe not when you consider they wouldn't be out of place on your coffee table, with the rest of your artful selection of über-cool monographs.
(H/T Creative Review)