We've all heard the term "viral." And no one knows the term better than George Takei, a former crew member on the Enterprise who has found a whole new, outspoken identity on Facebook. Whether it's gay rights or silly meme-riffic photos, his posts sit at the epicenter of hundreds of thousands of shares. But what does all this sharing look like beyond the like button?
Facebook tapped data visualization specialists at Stamen to answer that exact question. The social network provided anonymous sharing data on three popular Takei posts–which included information like age, gender, and generic user interactions–and Stamen just went wild with the information, building a series of visualizations that bloom like flowers.
The full design story is told over on Stamen's blog, and it's a worthy read. You'll see how Stamen designers started drawing out the data as soon as they got it, combining two disparate ideas (a crystallizing snowflake and a raining line graph) into the final visualization style shared outside the studio. Interestingly enough, Stamen admits to creating a lot of beautiful, failed concepts. The "Arabesque," in particular, is like art come to life, but its details are so soft that the impressive fidelity of sharing is lost in its own style.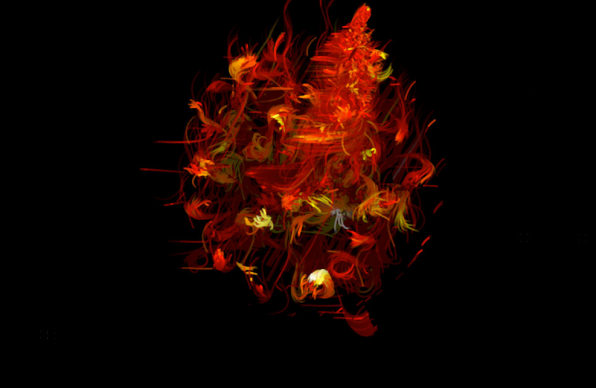 Ultimately, watching George Takei share a simple Photoshop of Marvin the Martian becomes an almost transcendental experience. The visualization starts as Takei's photo blooms in a spiral. Then, those petals re-bloom, with a countless number of mini branches growing in their wake. Every now and again, the process begins anew, with a huge bloom surge arising out of seemingly nowhere, until so many seeds have sprouted from the same soil that the trend is spent.
I want to use so many cliches to describe this unbelievable animation–fireworks, tentacles, spider legs, starbursts–yet they all fall a little bit short of explaining exactly what it is that we see. Because what we see was never really meant to be seen. It's server queries. It's IP addresses. It's endless people connected by countless algorithms. It's a mass of digitized communication that's so complicated that even Facebook is outsourcing the task of visualizing it. Yet at the end of the day, maybe we should find it comforting that mind-numbing data can resemble a simple, beautiful, blooming flower.