This holiday season, Starbucks will sell a line of gift cards, cups, and tote bags that don't feature Santa or snowflakes, ribbons or ice skaters. Instead, Starbucks is celebrating the season with a pixelated logo inside a flurry of gray and white pixels. For a company that's sold America on creature comforts–cozy armchairs and pumpkin spice lattes–it's a particularly forward-looking approach, a sort of new-aesthetic winter branding in place of tired holiday clipart.
It's part of a collaboration with high-fashion brand Rodarte, an attempt to "capture those folks who are interested in style and fashion," Samie Barr, Starbucks's VP of category brand management tells me. "The key thing is it puts us into a different type of sphere."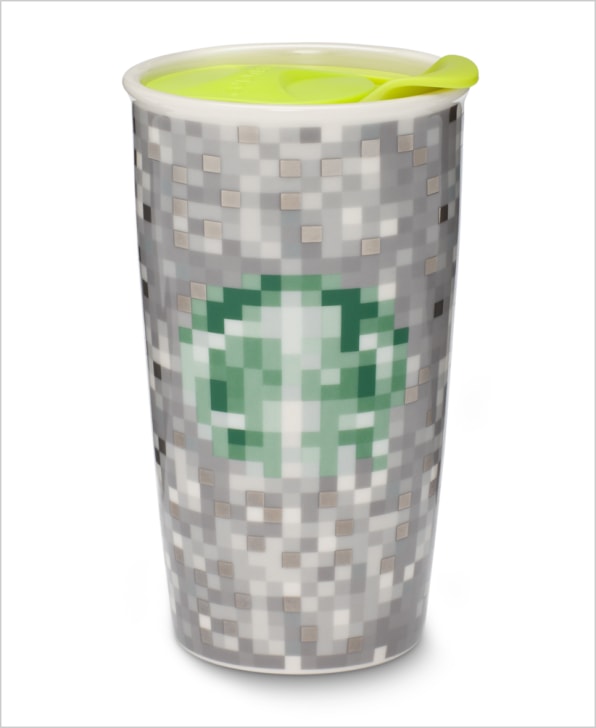 To create the limited-edition pieces, which go on sale November 13, Starbucks's global design studio went back and forth for several weeks with designers at Rodarte. The result was something that felt a little bit Rodarte and a little bit Starbucks, a "true collaboration" the company says, that might stretch a bit beyond the tastes of the stereotypical frappuccino drinker.
"You're not going to give it to someone who falls into the traditional category," Barr admits. "You've got this pixelation of grays, whites, and silver that's modern and digitized.
"There's obviously the traditional Starbucks cups that people come in and buy, and then we want to make sure we're peppering in unique and inspiring, more limited-edition-type pieces that can appeal to those audiences that wouldn't be our everyday purchaser."
So sure, on one hand, these new Rodarte pieces are a complete turn from the traditional. On the other, Starbucks has long been embracing turns from the traditional. We've seen it in its modern modular stores and its one-off architectural masterpieces. It seems that they're being pretty insistent about it: Starbucks just might be your taste, after all.
[Hat tip: psfk]