It's a shame. Amidst the financiapocalypse, Cleveland, Ohio, has 13,000 homes and other structures in such disrepair that they need to be torn down. It's a $4 billion job. And at least one designer is trying to find the bright side.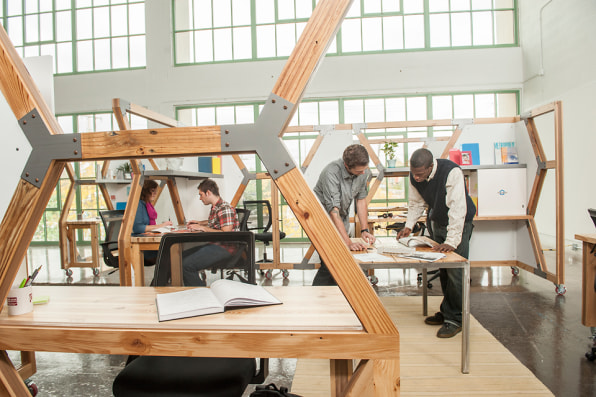 Daniel Cuffaro, department chair at the Cleveland Institute of Art and founder of Abeo Design, has created a modular workspace called the Hive Workstation. It's similar to the premium corporate furnishings offered by companies like Steelcase, but there's a key difference: Hive is built from the failed housing projects of Cleveland itself. Every piece has a secondary purpose, to "literally create value from the rubble of economic collapse."
"From a design perspective, the biggest challenge is creating something that does not look like an old wood shed!" Cuffaro tells Co.Design. And his greatest asset in this task may be local groups A Piece of Cleveland and Benchmark Craftsmen. Together, they reclaim materials from old buildings, and cost-effectively de-nail and refinish them, transforming otherwise junked wood into the stuff of premium furniture.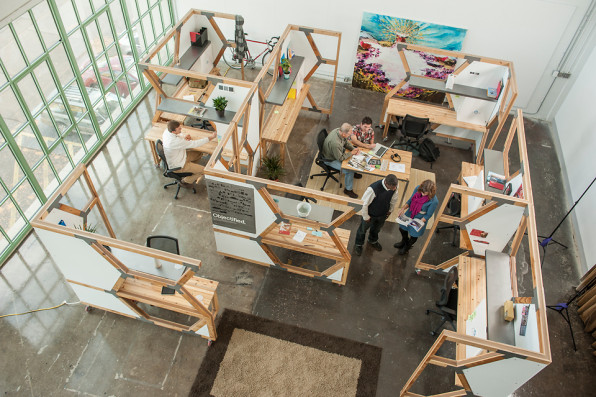 "The fabricators make it look easy, but I know it is not," Cuffaro writes. "The primary benefit is the quality of the material–this is old-growth quarter-sawn pine and fir . . . that has qualities of hard wood."
Ultimately, Hive Workstations may come at a premium cost, but even built from salvaged materials, they're a far cry from the veneered particleboard craftsmanship of Ikea–and much more durable. With a little TLC, these reclaimed woods can be appreciated right down to their grains and knots. And it's enough to make you wonder: If we have all this wonderful wood standing in the ready, why are we still grinding up trees to manufacture such inferior building materials? If there are 13,000 buildings ready for demolishing in Cleveland alone–I'm not doing the math, but that sure is a lot of Poängs.
[Hat tip: Core77]