International fashion giant Uniqlo is pretty much Asia's Gap. They sell easily matched, mass-market-friendly clothing that, admittedly, tends to be a bit more fashion forward than our three-letter alternative. They also occasionally release digital products, like screensavers (I know, right?) and apps.
Wake Up is Uniqlo's free alarm app that has all the understated style of a well-fitted monochromatic shirt. It's a replacement for iOS or Android's own built-in alarms, reskinning them with clear iconography, a soundtrack composed and performed by Keigo Oyamada and Yoko Conno, and voiceovers from a narrator.
In a crowded alarm app market, the idea is clever. The jingle that wakes you is composed to reflect the weather, so the alarm for a rainy day will be a bit different than that for a sunny one. That's not necessarily helpful–few of us say, "Screw it, I don't get out of bed for anything less than 68 degrees"– but these songs are quite soothing to wake to, a cross between the Super Mario World soundtrack and Tokyo train station alerts. (Really, if you've never visited, those alerts are really quite wonderful.)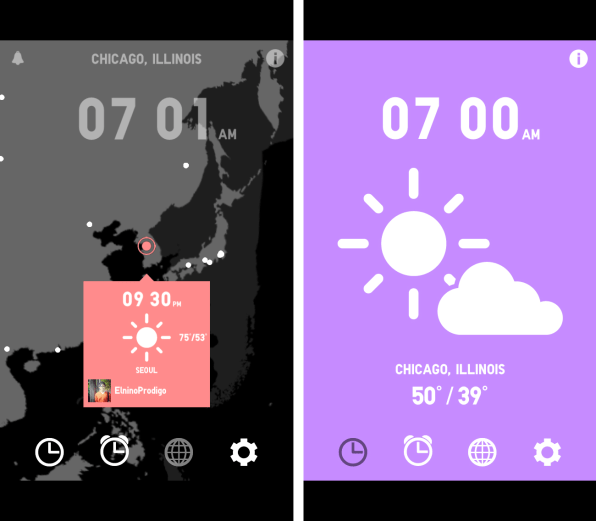 The catch is that the narrator is, for lack of a better term, completely intolerable. It's like Emiliana Torrini has Tourette's and is completely unable to contain herself from randomly singing that today is "PART! lee! CLOUD! ee!" However, there is a workaround. For whatever reason, the Mandarin speaker available in the options sounds totally normal. It's as if Japan's developers localized the app, just assuming that Americans demanded the screeching female voices of anime with all their imported products.
Download it here (iOS) or here (Android).
[Hat tip: Lost at E Minor]