The huge popularity of infographics these days–love them or hate them–has affected everything from the way buildings are designed to the way we read the news. But the renaissance in visual communication, led by patron saint Ed Tufte, has had special impact for nonprofits and social justice advocates–groups that are often trying to communicate basic facts and figures across multiple cultures in an engaging way.

Visualizing Palestine, a collective of architects and graphic designers, tells visual stories about the Israeli-Palestinian conflict based solely on impartial data. Featured recently on the Daily Beast and Al Jazeera, the group's work has resonated online. One diagram demystifies the complicated license plate classification system, which restricts access to certain types of roads within Israel. Another explains how water, used as a kind of proxy weapon, is playing a major role in the conflict. A map of Jerusalem's bus routes illustrates how urban planning and transit design can also become geo-politically heated.
It's undoubtedly rough ground to tread–you'd be hard pressed to find a topic that inspires more emotion. But Ramzi Jaber, the group's leader, tells Co.Design that he hopes their transparency and fact-driven work will appeal to those on both sides of the conflict. "We are interested in data-driven stories that help people to develop an accurate and nuanced understanding of the situation in Palestine and Israel beyond the discredited logic of a 'clash of civilizations,'" he says.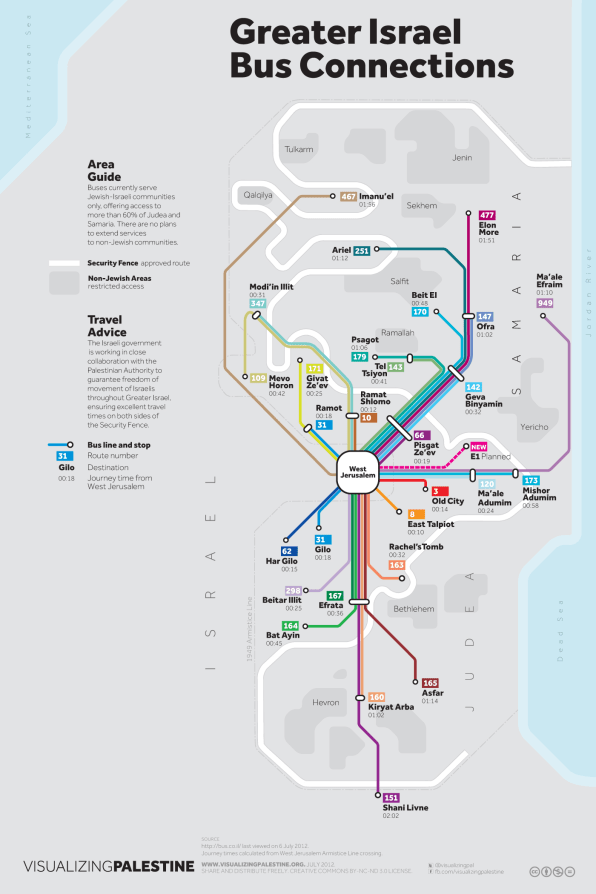 The VP team is spread out all over the globe, with members in Ramallah, Amman, Beirut, Paris, and London. The group is led by a core team of six, whose professions range from "software geek" to architect. They point to the work of Julien Boussac, a French cartographer whose satirical maps of Palestine were recently featured on Reuters, as inspiration. The Israeli NGO Gisha, which uses motion graphics to tell wordless stories about the conflict, is also an influence.
VP is part of a growing group of architects and designers–both Israeli and Palestinian–who are examining the conflict from a variety of perspectives in the world of design. Israeli architect Eyal Weizman has led the way for architects; his 2007 book, Hollow Land: Israel's Architecture of Occupation, was a groundbreaking study of how space and architecture are wielded as weapons in the conflict. On a broader scale, groups like Tactical Tech are helping NGOs and nonprofits leverage data and visual communication as a tool in their own communities.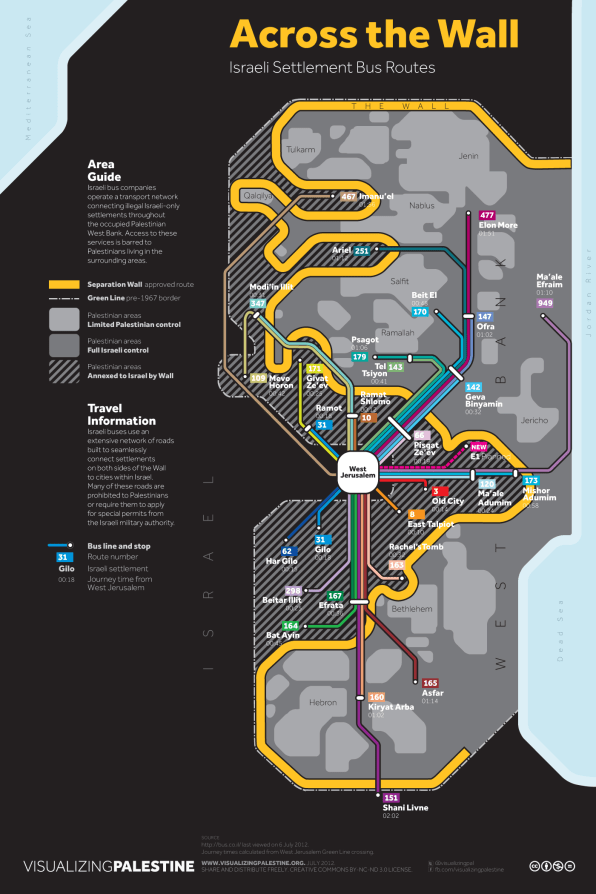 Hold up, you may be saying, after taking a look at some of the group's work. Impartial? This group has a clear opinion! Jaber knows it, and notes that it's impossible not to let your own biases leak into your work. But by basing their graphics on freely accessible and impartial sources, VP hopes to spur a dialogue based on data, not emotions. "We go to great pains to be clear and transparent by including all relevant sources on the graphics themselves," he adds, "which also allows readers to verify the data, read around the topic, or potentially to challenge us or suggest improved sources for future revisions."