As a little kid growing up in Afghanistan, Massoud Hassani played the same way every kid plays: by making up games and building toys. "One of my favorite toys was a small rolling object. It was powered by the wind. We used to race against the other kids on the fields in our neighborhood," he remembers. "While we were racing against each other, our small miniatures rolled way too fast and too far. Mostly they landed in areas where we were not allowed to step a foot on [because of land mines]."
Hassani eventually immigrated to the Netherlands, and as an adult, enrolled at Design Academy Eindhoven. In his final year of school, he found himself thinking back on his childhood spent making models and toys. "Almost after 20 years, I went back to my childhood and made those toys all over again," he says. "I remade one of those objects, 20 times bigger, heavier, and stronger." The object eventually evolved into his thesis project, Mine Kafon, a wind-powered mine diffuser.
Like the toys of his youth, Mine Kafon is powered by the wind, and ends up in minefields. But that's intentional. Its 70 bamboo and rubber legs are designed to shuffle and bounce over the Afghani plains, triggering errant land mines that could otherwise blow up unannounced. The only electronics on board? A GPS system, used to record and map mine locations, so that extra attention can be paid to areas where mines have been detonated.
Hassani explains that for the past 60 years, mine removal techniques have stayed largely the same. "Local people are often the ones doing it," he tells Co.Design over the phone. "Those who need the money. A lot of people end up getting hurt." Typically, the professional removal of a single mine costs around $1,200, and can take days. In contrast, Mine Kafon will cost around $40 when it's put into production, and can sustain up to four explosions before needing to be replaced. The system has undergone two years of testing, mainly at the hands of the Dutch government, who put Mine Kafon through a series of strength tests. Eventually, a full-scale mockup was tested in the deserts around Morocco (a documentary about the trip is forthcoming).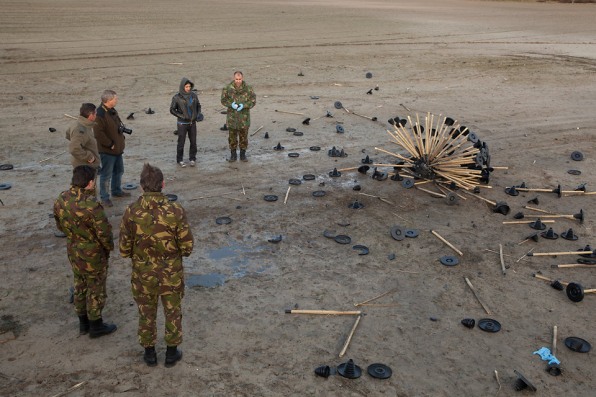 This week, the team exhibited Mine Kafon at the Dutch Design Awards, and Hassani says he plans to launch a Kickstarter in a few weeks. The proceeds will fund the next round of testing, and hopefully, a finalized design ready for implementation. He's also prototyping a similar device that can be controlled by a remote sensor, plus a cylindrical version of Mine Kafon that is modular, making it possible to create a long, rolling sweeper. Though he hopes to deploy the first Mine Kafon in his home country, he says the team is also looking to implement the device in North Africa, as well as Angola, which is riddled with more undetonated mines than Afghanistan.
More on the Kickstarter launch to come. In the meantime, head over to Hassani's blog for more information.