With Hurricane Sandy hastening its stroll up the East Coast, media coverage of the impending FRANKENSTORM has reached fever pitch. Some meteorologists are calling it "an unprecedented and bizarre" storm of the century. Others say that's "shameless fear mongering." The rest of us are reacting like this.
Whichever school of hurricane prep you ascribe to, all eyes (human and machine alike) are on the East Coast today, which has made for some interesting visualizations of the storm. It used to be that meteorologists made a "best guess" using data culled from weather balloons, which gleaned broad, imprecise insights into storm paths. In turn, evacuations were far broader than they are today. Thanks to satellite data, advanced modeling software, and broadcasting platforms that update in real time, today's network news coverage unfolds in the moment, at times feeling more like a football game than an emergency broadcast.
If you've reached your capacity for media hype about Sandy, avert your eyes now (maybe by peeping these GIFs of hurricane coverage clichés). Otherwise, check out a shameless roundup of the most interesting images, maps, and videos of the 'cane, below.
NASA's Tropical Rainfall Measuring Mission is a joint US/Japanese mission to measure (as the name suggests) tropical rainfall and cloud heights. The 15-year-old satellite supplied the data for this image, which models the storm in 3-D. Despite the low-res image, it's pretty cool, since it demonstrates some of the weirder aspects of Sandy. For example, the red "rain band" contains strong independent storm cells which will pummel the coast before Sandy herself makes landfall. Meanwhile, the wisps of cloud at the upper left-hand corner hint at the arctic storm coming down the line, which could pose the real threat when it collides with the warm, wet storm system.
Some of the most awe-inspiring photos of Sandy come from the National Oceanic and Atmospheric Administration. Their satellites provide infrared data that illustrates the temperatures inside the storm cell–important, since the upward movement of warm, moist air is what gives the storm its momentum. Other satellite images from the NOAA show the beautiful with high-res detail.
It may not bear the terrifyingly beauty of NASA's infrared maps, but NYC's interactive map of evacuation zones is an important technical step for the city. The street grid comes from OpenStreetMap, the free, editable map of the world based on open source software. The zones and shelter data were overlaid using MapBox, a fast way to create and publish your own maps with an open API. The map builds on the success of the city's Hurricane Irene map. NYC's Chief Digital Officer Rachel Sterne explains that she wants to "encourage expert designers and developers to take advantage of the geographic files corresponding to hurricane evacuation zones, available free of charge on the NYC Open Data platform." In the case of Hurricane Irene, dozens of major media outlets used to create their own maps, helping to reach an unprecedented number of New Yorkers. The map leaves out New Jersey (as per usual), but check out Google's Crisis Map for a similar version of the entire shebang.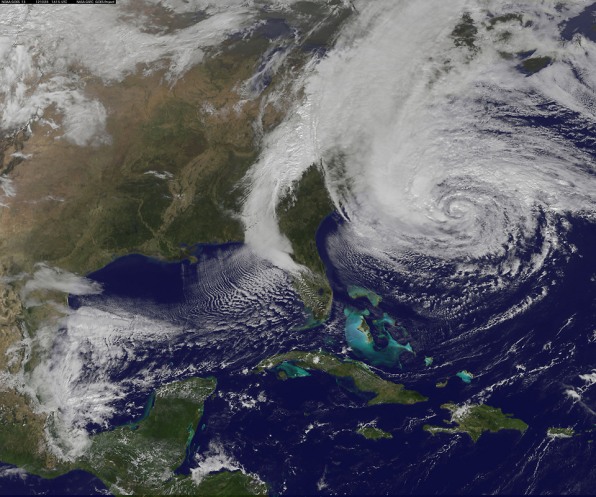 How does Sandy rank compared to other hurricanes snow storm-cyclones? There are a couple ways to judge this, since this storm isn't quite like anything else that's happened in recent memory. This map of every hurricane starting in 1851 is pretty, but makes it tough to discern what's unique about our Sandy. Same goes for this amazing map of every modern tropical cyclone. Instead, we pulled together a map comparing Sandy's estimated path to that of a few other historic mid-Atlantic hurricanes, with Irene thrown in for reference.
We wrote about the animated Wind Map back in March, but today seems like a great time to revisit the beautiful project. The designers behind the map, Fernanda Viégas and Martin Wattenberg of Google's Big Picture visualization research group, created it as a pet project that maps wind patterns across the U.S. in real time using data pulled from the National Weather Service's Digital Forecast Database. Think of it as a chilled-out alternative for storm trackers who want to avoid the shrieking panic of network television. NASA's EOSDIS has another real-time updating map, this one in true color. Of course, The New York Times' Graphics Desk ends up doing the best job at conveying the most information with the least clutter–check out their map here.