My first year on this planet is documented in a few scattered albums of discolored photographs and a box of bibs, stuffed dinosaurs, and a handful of other mementos stored somewhere in my family's basement in Michigan. Today's parents can do much better. In a post-film world, there's no real reason to ever stop taking pictures of your kid, and with even the cheapest smartphones capable of capturing high-quality stills and video, it's entirely possible to create a high-definition audiovisual record of your child's first words, laughs, steps, birthday cakes, sneezes, and all the rest.
One constant that remains, however, is the baby book–the simple paper register of heights, weights, first words, and first steps. Now, that too has been updated for the times, with Chase Simmering's "My First Year" infographic poster.
It all started when Simmering had her daughter, Paloma, in May of 2010. The Massachusetts-based designer was gifted a beautiful baby book, and had every intention of filling it out, but quickly she realized that such items, once completed, rarely made it off the shelf. "I am a huge fan of Nicholas Felton's work," she told me, "and I started trying to document my daughter's development in a more visual way." With traditional baby books as her guide, Simmering started piecing together an infographic of her daughter's progress. "I tend to steer away from most conventional baby things," she explains, which meant eschewing dirty diaper counts for more unique bits of data, like how many times she had to play Major Lazer to get her daughter to fall asleep.
Soon she was making what became known as "Paloma Posters" for other parents. They'd complete a form with 16 personalized data points, and a few weeks later, Simmering would mail them back a fully illustrated custom poster, with blanks ready to be filled in. "I had a lot of great feedback from the Paloma Poster and was asked by many stores to wholesale it," Simmering told me, but because she customizes each one, a bigger operation simply wasn't possible. What was, however, was a do-it-yourself version, which is now available on Simmering's site.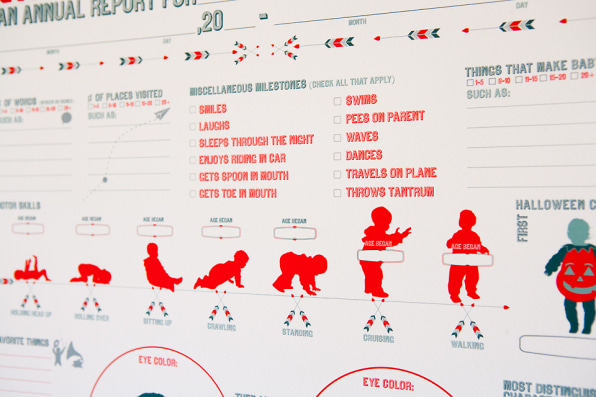 The new poster has 30 fields for parents to fill in, from the kid's first Halloween costume to guaranteed "tear triggers." Whereas the initial, customized posters are $150, the new ones are available for $40, making them a perfect present for new families who are a bit too hip for the stuffy old baby book. Still, working on those initial posters, Simmering explains, was essential for figuring out what to include in the new DIY version. "Designing dozens of Paloma Posters for a year before launching these products really helped to inform the other pieces so it wasn't strictly my own voice and taste coming through," she says. After all, not all babies love Major Lazer.
Check out more on the Strange Birdy site. Posters are $40, fold-out cards start at $20.