NASA's Robonaut, and subsequent Robonaut 2, have made countless headlines for potentially replacing astronauts in space. But now, score one for the meatbags. NASA is redesigning their robotic platform as an exoskeleton for humans.
Designed, fabricated, and assembled in just nine months with the assistance of the Florida Institute for Human and Machine Cognition as well as Oceaneering Space Systems of Houston, the X1 is an experimental motorized suit that could be wearable both by astronauts in space or everyday people back on Earth. Weighing 57 pounds, it's designed to either inhibit or enhance human movement; astronauts can wear the device as a resistance-based exercise machine to stay fit in low gravity, while those with limited mobility could wear it to empower their actions back on the ground.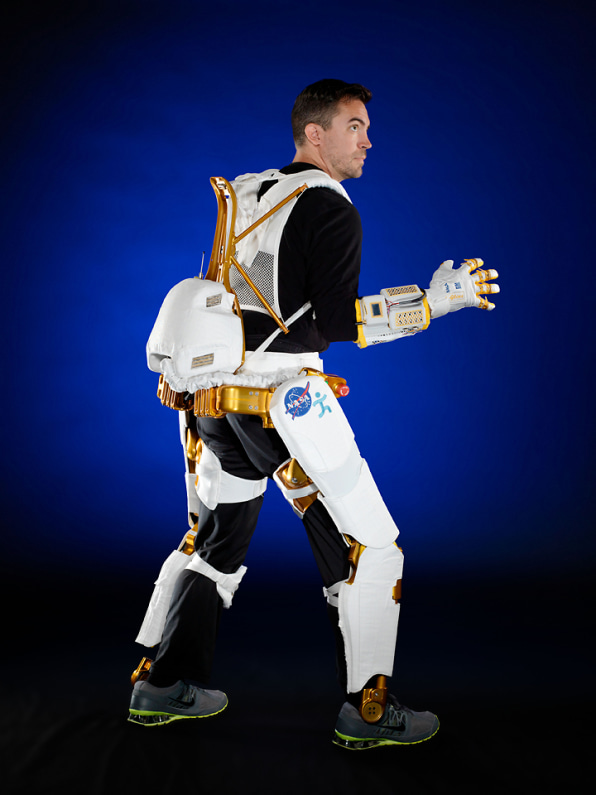 The four motorized joints at the hips and knees work against or for the user to fit their specific use case, offering power or resistance appropriately. The exoskeleton itself is made of 10 total joints, the other six of which are passive, allowing flexible sidestepping, turning, etc.
But how did NASA adapt their Robonaut skeleton for humans? The key, Project Engineer Roger Rovekamp tells us, was reshaping and calibrating Robonaut's motors for human use. Additionally, the team created a collection of mechanical safeties to protect soft human flesh inside a robotic frame.
"Some of the concerns that people may not realize have to do with the inclusion of the added levels of safety that this type of device requires," Rovekamp writes. "Oftentimes requirements for safety and requirements for performance are at odds, and in these cases a tough decision has to be made where the engineers must balance the correct level of safety with the appropriate level of performance. Fortunately this is something NASA has become very good at."
In terms of ease of use, Rovekamp calls the system "intuitive" but references room for improvement. The largest issue is adjusting the X1 to fit people of various shapes and sizes. Currently, their design requires a tool to make this possible, but NASA aims to make these adjustments self-contained.
"[A tool-free design] is ideal for the space environment where small objects tend to want to float away," Rovekamp explains, "but it could also be a useful feature here on Earth."
Indeed, nothing ruins the mood of afterburner-kicking an extraterrestrial supervillain more than pulling out a wrench to tighten a loose boot. NASA had better get to work.