In architectural criticism (mainly from the early '90s), the term "paper architecture" is typically used to disparage architects whose schemes are so unrealistic they're unbuildable. The phrase is also applied to the emergence of "paperless," computer-driven design studios. A third, less polemical definition comes from Japan, where a Tokyo Institute of Technology architecture professor named Masahiro Chatani developed a technique for cutting and folding single pieces of paper into elaborate 3-D models, drawing on traditional Japanese card making and pop-up books.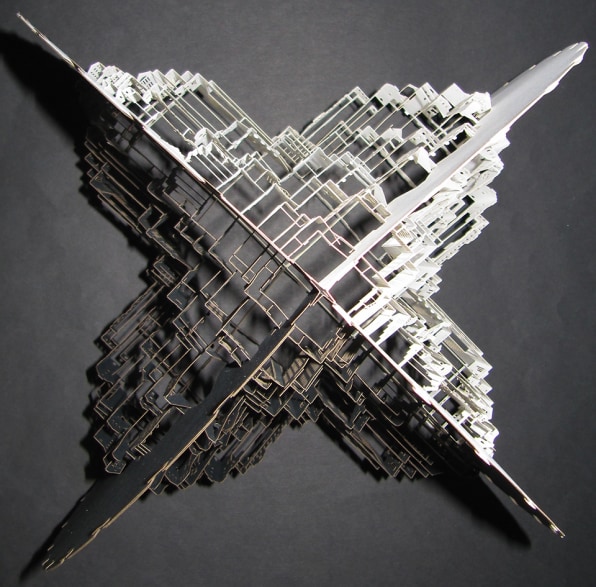 Chatani died in 2008, but a number of artists have continued his Origamic work, among them, Dutch artist Ingrid Siliakus. Siliakus studied Chatani's work in pattern books for years before attempting her first cut, but since then, her work has appeared in dozens of exhibitions and on the covers of the New York Times Style Magazine and Wallpaper*.
"Working with paper forces me to be humble, since this medium has a character of its own that asks for cooperation," Siliakus explains on her website. In the beginning, she worked by hand, using an X-acto knife and a bone folder to prototype each piece dozens of times. As interest in her work grew, she found it was impossible to keep up with demand–today, she uses a laser cutter to execute her patterns and then assembles them by hand.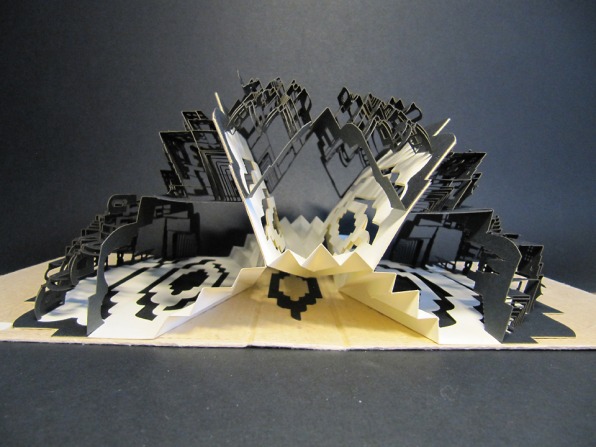 She begins by sketching each layer individually, as you would a drawing. Then, she chooses a paper and goes through 30 or more iterations, trying out techniques and experimenting with details. The final piece can take weeks to assemble, using bamboo skewers and her traditional Japanese origami bone-hewn folder. Most of her pieces are designed from scratch–but newer works focus on existing buildings, like Gehry's Bilbao Museum or Gaudi's Sagrada Familia.
Siliakus compares her work to meditation, saying that the fragility of paper forces her to slow down and focus. "Paper architecture does not bare haste, it is its enemy; one moment of loss of concentration, can lead to failure of a piece," she says. "I experience an ultimate satisfaction at the critical moment when the paper, with a silenced sigh, surrenders and becomes a blade-sharp crease. The sound of the paper, which guides this surrendering, to me is incomparable."
Check out more of her work on her website, or buy it at the Escher in Het Paleis.
[H/t It's Nice That]