If you've had the misfortune to go luggage shopping recently, you would have noticed that most offerings fall into one of two categories: relatively cheap and ugly, or sleek and insanely expensive. Bags that are good-looking, functional, and affordable are as elusive as a subway during a hurricane. "There's a lot of luggage out there, but it didn't seem to be hitting both a need and an aesthetic, so we thought there was an opportunity there for our brand" says Chris Robinette, VP of product at Incase, which is adding a five-piece travel collection to its catalog of protective tech gear.
While designing the line, Incase had a specific consumer group in mind–themselves. "We've been making a lot of travel gear for ourselves since we started Incase," says Joe Tan, Incase's chief design officer. "We finally felt like we wanted to share this with a broader audience than just ourselves." In some ways, though, the designers at Incase are much like the people they expect will use their products: creative professionals who need to take short-duration trips for work but don't have the need to lug around a library of binders. "Our business traveler travels a little more efficient," Tan says. "Maybe he just has a laptop or a few pieces of clothing."
As such, the EO collection includes an array of mid-size luggage for the casual chic: two rollers (one with a hard shell, the other with a soft one), a briefcase on wheels, an expandable backpack, and a duffel. Each one displays features the company is known for: clean, sleek design that displays precise attention to detail, with organizational pockets for all your gadgetry just where you want them.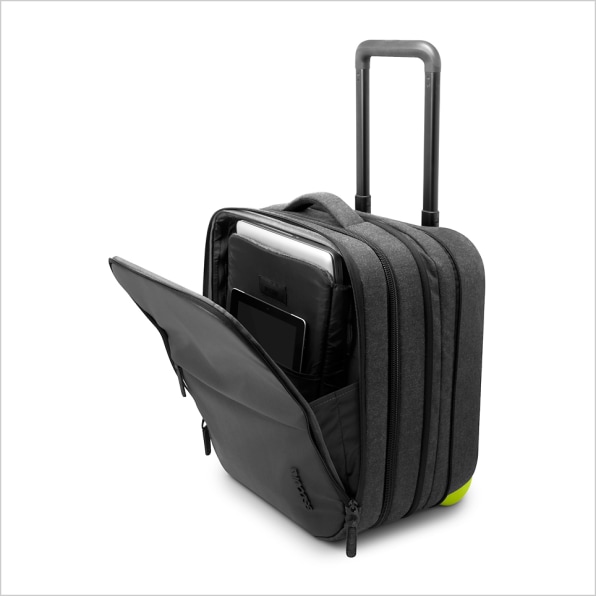 "As designers, we tried to go deep and hone in on ways to alleviate paint points in the travel experience," says Joe Tan, Incase's chief design officer. That meant designing bags that could easily pass through security checkpoints at airports: The hard-shell roller, for instance, has a fold-down laptop compartment, so the computer can stay in the bag rather than being tossed in a dirty bin. Tan was also attentive to materials, choosing soft, tactile fabric in some places but more protective textiles for tech storage. Even the urethane wheels have a smoother feel than standard runners.
The bags– in black with green accents–range in price from $149.95 to $299.95. "In luggage, there's a lot of first-class solutions that speak to a luxury audience," Tan says. "That's not where we wanted to go. We wanted to have something that's approachable, that's frequently used–a business-class solution." Go here for more info.