I was lucky enough to miss out on Hurricane Sandy, because I can't imagine facing floods, let alone while holed up in an apartment without power, only to lose access to the only device keeping me in touch with the greater world: my smartphone. Because when you do the math–taking into account that the average smartphone only runs a day or two on a charge–you realize that many New Yorkers had been entirely cut off from communications for days before regaining power.
Etón, makers of licensed emergency gear cobranded with the American Red Cross, has what may be the new most essential disaster tool: the BoostTurbine.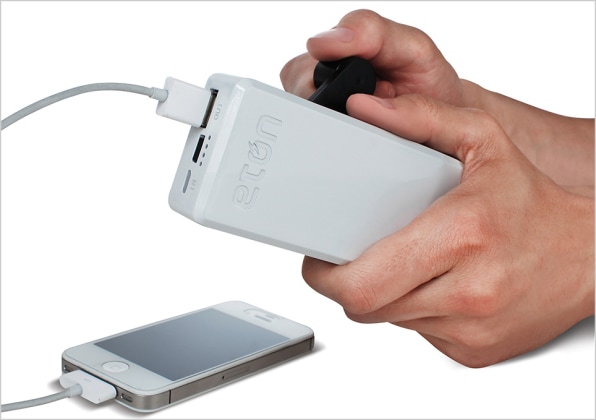 It's industrial design at its simplest, as the BoostTurbine is basically a hand-cranked USB jack (and nothing more besides the internal battery). One minute of spinning the turbine generates 30 seconds of talk time, or "a few critical texts," for a phone. That's long enough to call 911 or leverage SMS to get various disaster information. I suppose it could be used to check in on your fantasy football team, too, if survival isn't your chief priority and you've been blessed with the forearms of a linebacker.
As of today, the BoostTurbine is available for pre-order, starting at $50. (A colorized version, the BoostTurbine2000, will run you $10 more.)