Any time I'm on a bridge, a tiny voice reminds me: "This could fall down." It's mostly ridiculous, of course. Bridges are developed with incredible care and monitored with extreme scrutiny, but every time you cross, you are putting a certain amount of faith into infrastructure.
Architecture studio bureau faceB is developing a new bridge on Paris's Seine River that's inspired by that tiny, cautious voice in our heads. Dubbed Water At-traction, the pedestrian bridge is constructed from steel cables, strung between banks by springs. It contains two ways to cross. One is a relatively typical bridge with a concrete mesh bottom. But by its side is a more "perilous" option, a series of extremely narrow, wobbly paths reminiscent of Himalayan footbridges.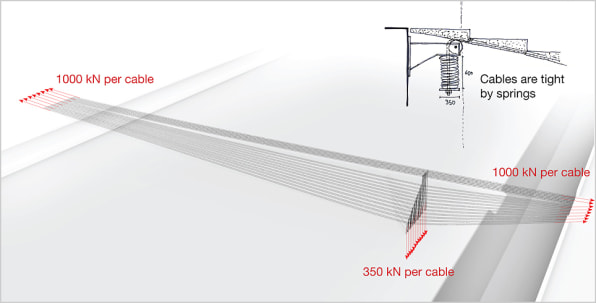 "The objective was to get closer to the water, to regain contact with the river," bureau faceB's Camille Mourier tells me. "Going over the water is an event in itself. We wanted the pedestrian to find this feeling. It's like a perilous flirt with the Seine."
Of course, the instability is a bit of an illusion. The bridge is stretched in three directions, meaning it's perfectly well grounded. And a series of steel balustrades should contain any mishaps from falling into the water. At the same time, the project is a fun reimagining of the infrastructure we take for granted. This bridge doesn't just tacitly ensure your safety; it challenges pedestrians to acknowledge the leap of faith they take every day, standing upon structures built by people who, however brilliant they may be, are perfectly capable of making mistakes.
[Hat tip: Dezeen]