Well, this is smart. If you're a new parent who loves the freedom of cycling around town but hesitate to take your tot for a joyride, Taga has got you covered (and then some). Based on Dutch cargo-style bakfiets, which are essentially like ridable wheelbarrows with a fixed box in front, the company has created a convertible chassis that can be transformed from adult trike to stroller and back again. The whole process takes a lightning quick 20 seconds, as shown in the video below.
Of course, not pictured in that seamless white studio are squirming (and/or screaming) children, unwieldy groceries, inclement weather, or the hustle and bustle of a busy urban sidewalk with pushy people passing by, but it still seems like a remarkably convenient transition. I don't have kids, so perhaps those who do can weigh in with their thoughts on whether this looks like it would be feasible on-the-go.
Regardless of its relative real-world ease, the folks at Taga took their time perfecting their product's design and engineering, with four years of development facilitating a whole host of thoughtful features: three wheels that make it more sturdy than your standard bike and eliminate the need to balance (which can, understandably, be intimidating with your tot in tow); easy folding for stowing away in the trunk of a car or closet at home; the ability to add an additional child's seat or a car seat adapter. Buying one will set you back about $1,500, but just imagine all the fun you'll have out there on the open road.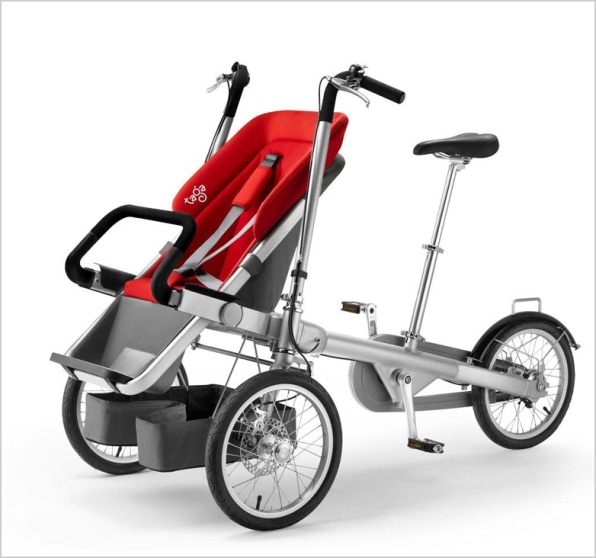 (H/T Inhabitat)