During Hurricane Sandy, New York was, unsurprisingly, the world headquarters of tweets about Sandy. Its involvement in the storm, coupled with its population, made the city the overwhelming social media voice of the event.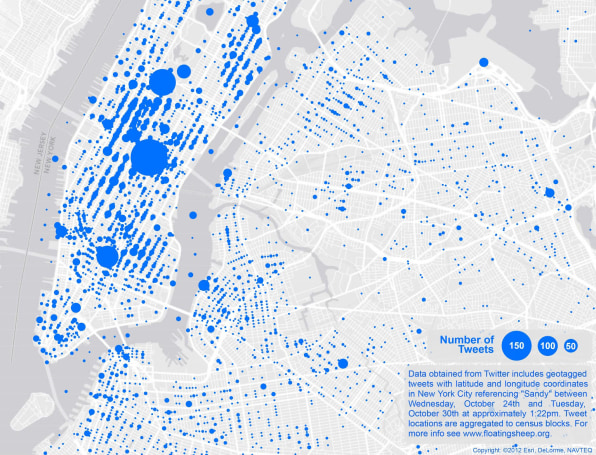 So what can we learn from that data? Floating Sheep created this map of geotagged tweets that occurred in the days before and during the storm. What they found was that Manhattan, with the greatest population and wealth, put out the most tweets. Some events prompted noticeable responses in various geographic areas–the best example being the infamous crane dangling on 57th street, which appears as a big blue circle just south of Central Park–but other events, like evacuations and explosions, can't even be spotted on this map.
For the most part, tweets follow streets (rather than emergency events), permeating throughout boroughs with fair regularity. It appears preplanned evacuations had more people tweeting from the relative safety of their homes, and those stuck in actual emergencies (versus mere looming terror) were probably less likely to hop on their cellphones to knock out 140 characters on the topic.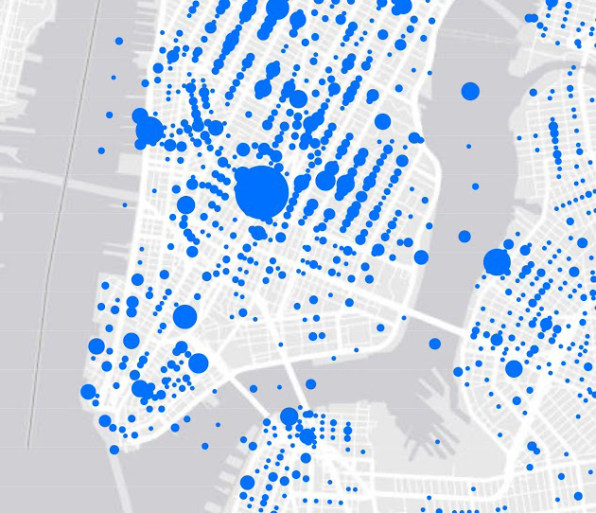 Floating Sheep points out something very interesting, however: While tweet representation in lower-income areas like Harlem was solid (far more representative than Katrina's destruction of the physical and digital presence of the Lower 9th Ward), out of the millions of Spanish speakers affected by the storm, they counted a mere five tweets referencing the floods in Spanish*. So while Twitter may be bridging the gap of affluence, there are clearly still some strange shortcomings in its demographic reach.
* Clement Brygier points out that 14% of Twitter's users are hispanic, meaning that Spanish speakers may just prefer to tweet in English.