This weekend Parrish Art Museum will inaugurate a brand new building, a 600-foot-long double-roof barn knit into the farmlands on the South Fork of Long Island.
Designed by Herzog & de Meuron, the finished building is very different from the original design, from 2007. When the Swiss duo first received the $82 million commission for a large museum in one of the country's richest communities, they proposed a small village of gabled galleries. Shortly afterward, the familiar plot arc of the 2008 recession ensued: budget slashes, revisions, and delays.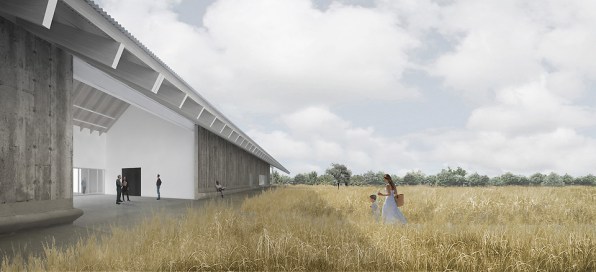 With less than one-third of their original budget to work with, Herzog and de Meuron made a decisive change of direction. Architectural Record's Fred Bernstein explains that when the client told managing partner Ascan Mergenthaler about the budget cut, "Mergenthaler picked up a piece of paper… proceeded to transform the cluster into one large volume."
And as simple as that, the project was back on track. This weekend, when Parrish opens to the public, visitors will find a simple building. Its two long galleries are framed by a network of timber beams, knit together by an elegant circulation core. The exterior cladding–hand-poured concrete–is molded to form a long bench that edges the entire structure. It's half Renzo Piano's elegant industrial Auditorium Paganini and half Medieval long house, if both had been detailed by Mies.
In any other decade, this building would likely have been hailed as a restrained, elegant piece of work. But thanks to the glowering recession, it's being held up–foremost, by the New York Times' Nicolai Ouroussoff–as evidence of a creative slump amongst architects. Writes Ouroussoff:
What's scary is what the design suggests about the future. Is this kind of downscaling the beginning of a trend? Herzog & de Meuron is not the only architecture firm that is being put through this process. Just a few days after I saw the new Parrish design, Rem Koolhaas told me that he was in a similar predicament over a condo and screening room design in Manhattan. It makes you wonder if the cultural consequences of the financial collapse will be as liberating as some have predicted.
Ouroussoff argues that the new design suffers in its simplicity, but if you take a closer look at the original, pre-crash design, you'll find a proposal that was suffering in its own way. From a lack of originality, for one thing–check out the similarities to H&dM's 2006 VitraHaus.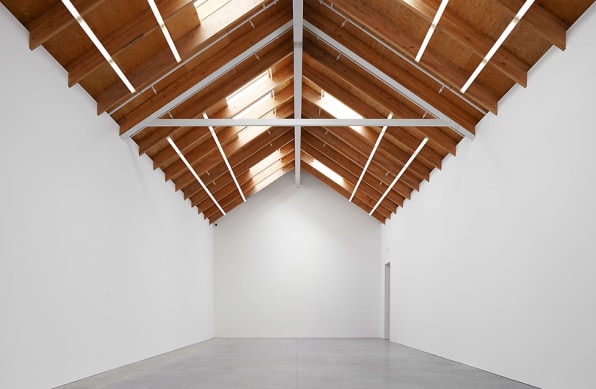 The question of whether the recession affects the quality of architecture might be fun to argue about, but ultimately, flagship projects built by "starchitects" aren't the right place to look for evidence. Cutting a $82 million dollar budget to $26 million might seem drastic, but as one Archinect commenter pointed out, it still leaves enough cash to spend $683.33 per square foot of museum. The most expensive conventional architecture–hospitals–total out around $400 per square foot. Even if you believe that architects like Herzog & de Meuron or Koolhaas are suffering from a lack of creativity, it certainly isn't because of a budget cut. And anyway, though we won't actually get to see the museum until this weekend, it looks like a beautiful piece of work.
Besides, look what these guys do on .3% of that "slashed" budget.