In a 4-foot crack between two buildings in Warsaw, Poland, Jakub Szczęsny envisioned a home. It would be dubbed the Keret House, providing 150 square feet of living space to anyone who promises to only stretch one way. It's an extremely tight fit to say the least, yet it squeezes in a bathroom, kitchen, and a reasonable place to sleep.
Since the last time we shared plans for the project, you'll see that the finished building has developed a far more industrial aesthetic, resembling a Tetris block more than a carefully rounded suppository. It's sharp down to its frame, a series of metal triangles that form a two-story lattice hovering 10 feet off the ground.
"It's a rather 'minimal existence unit,' but I've done my best to fight for centimeters in table, seating, kitchenette, and corridor widths," Szczęsny tells Co.Design. "For sure some people might feel claustrophobic, but there's actually a lot of vertical space."
Whereas white walls can be the hallmark of an undecorated home, Szczęsny purposefully "maximized" the whiteness to enlarge the space, making each wall glow through a semi-translucent polycarbonate roof and facade. And he's not lying about the vertical space. The Keret House may be just 4 feet wide, but it's also 33 feet deep and the ceilings reach 30 feet high at their peak.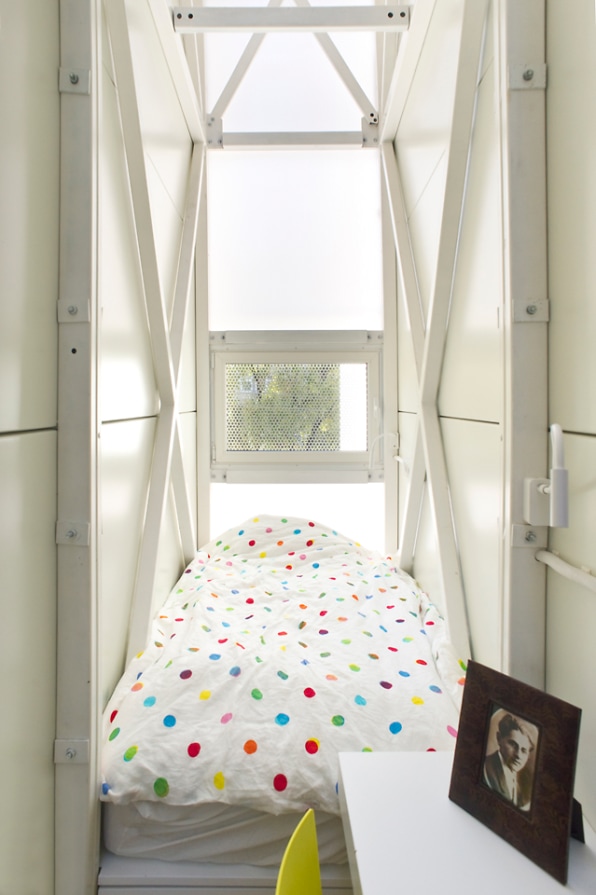 That the Keret House merely looks tiny rather than completely unlivable is a testament to its clever, functional design touches. Like the entryway staircase–which folds up to double as the first floor's, well, floor. Or a toilet modeled after boat plumbing.
"As one of the ladies in the department of architecture in the Wola district office said: 'I think it's impossible, but I'm giving my acceptance, because maybe it's possible.' Which made the whole thing more possible, of course: It was a building permit," Szczęsny writes.
So who will live in this tiny home first? Israeli writer Etgar Keret. He's a fitting namesake for the building, too, as Keret is known for writing short stories that are particularly short.