As Adrian Tomine has pointed out, the one-time subculture of comics and graphic novels has migrated into the mainstream over the past decade. The marketplace for visual stories might be booming, but until recently, graphic offerings on e-reader platforms were fairly limited. Either because of low-resolution screens or poor options for self-publishing to digital stores, graphic novelists just weren't very well-read on Kindles or iPads.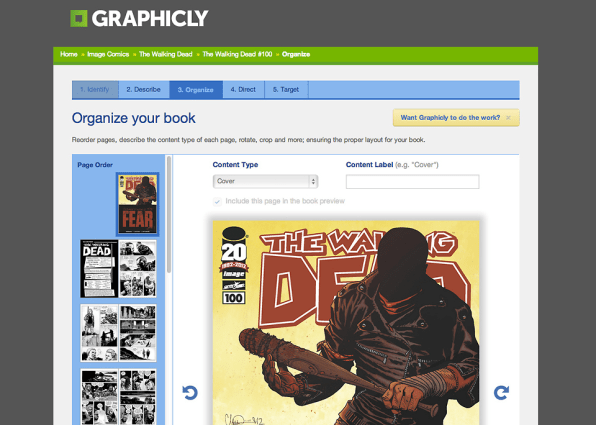 Graphicly, a small three-year-old startup, aims to change that. Originally, the company's mission was to become an "iTunes for comics" marketplace, letting authors and publishing houses offer titles to readers for purchase via a dedicated app. But a recent TechCrunch interview with CEO Micah Baldwin revealed that the company is pivoting away from being a marketplace to focus on supporting the self-publishing ecosystem for visual stories.
"We struggled for the first couple years of the business. We had a very clear mission. There are a lot of great stories hidden that need to get out there. But we struggled on how to enable that," Baldwin tells TechCrunch's Drew Olanoff. "We switched from being a marketplace where we were trying to sell stuff. The problem with a marketplace is you just become a store and you don't help the people find great stories and publish great stories. Our vision wasn't fitting with what we were building. We struggled."
In April, the company pulled all of its marketplace apps and turned its attention to developing the best software-as-a-service platform for artists and publishers who want to put their visual content on digital readers and their native stores. On the site, a step-by-step sequence allows publishers to fine-tune how readers will view the story's individual frames–an important aspect of visual storytelling that was one of the major drawbacks of viewing graphic novels on an e-reader. Then authors choose to push their product to any number of online marketplaces, from iTunes to Kobo. Afterwards, Graphicly provides analytics on how readers use their books.
The idea behind the company's pivot is to open up their product to visual books outside of comics, from kids' books to cookbooks. The strategy is working. "We're showing a 1000x increase in revenue in 2012 over 2011," Graphicly's Ron Richards tells Co.Design. "We currently have over 5,000 publishers distributing over 10,000 books." At any given moment, as many as 9 out of 10 graphic books on iTunes are published on Graphicly. And you can still buy and download books directly from the Graphicly website.
It's great to see a group of entrepreneurs devoted to bringing work from emerging graphic artists to the mainstream marketplace. It seems that the twin booms–of e-readers and graphic novels–are finally starting to click with each other.
[H/t TechCrunch]