One of the most powerful tools in a scientist's arsenal is the scanning electron microscope (SEM), which uses a beam of electrons to magnify a specimen up to 30,000 times its actual size. The technology has been used to examine everything from trace materials on bullets to the diseases behind the declining population of honeybees. But San Francisco–based photographer Caren Alpert has adopted the technique for a less than scientific purpose: to get people to look really, really closely at what they eat.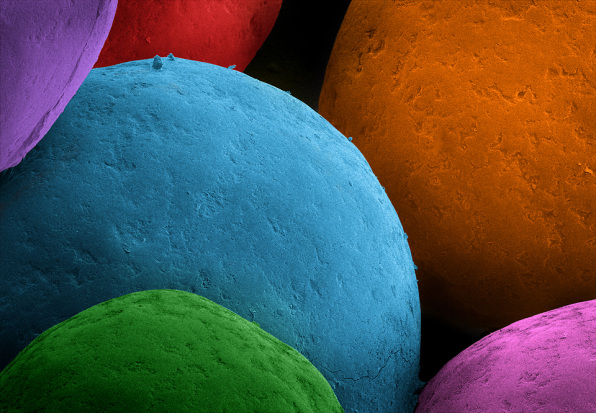 Not that she's proselytizing: "I'm not trying to dictate what foods are important or what foods you should like or dislike," Alpert maintains. "I'm saying, 'Look at it differently.'" To that end, she's given everything from chocolate cake and candy to radishes and coffee beans the microscopic treatment, in the hopes of underscoring how natural and processed foods differ not only in their nutritional value but in their chemical structures. "If you start to look at what's in the photos, like the pineapple leaf, there's such a complicated scenario happening right on the leaves of the plant," she says. "Conversely, the Lifesaver shows how our food is being changed so much in processing that it is not reminiscent of anything." Actually, her image of a Pop Tart (see below) is reminiscent of a pink (and wholly unappetizing) calcium deposit.
Although Alpert is an accomplished commercial food photographer, her credentials didn't translate to SEM labs, where the specialized equipment is booked far in advance for medical studies. After researching her options in the Bay Area, she decided to expand her geographical net, ending up in a lab in Arizona, where the demand for SEMs isn't as high. There, technicians dehydrate the specimens and coat them in a conductive metal, usually gold. Once the foods are prepped, Alpert travels to Arizona to use the SEM, which, she says, "has controls very similar to a camera, like an F-stop, depths of field, and zoom." As SEM renders images only in black and white, Alpert colors the photos in post-production to mirror what the food looks like before being dehydrated.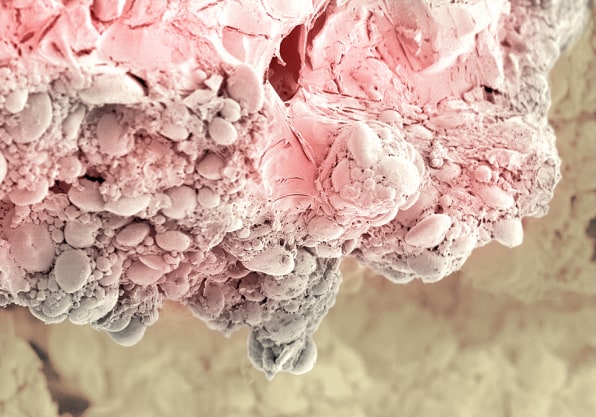 Alpert chooses recognizable foods that resonate with viewers, although not all of her picks are compatible with the preparation process, which expels machine-damaging water from the specimens. Says the artist: "I push the technician as far as I can to the point where he says, 'Why are you sending me a Twinkie? You know I can't do a Twinkie.'"
The photo series can be seen online here, or at New York's Citigroup Building (153 E. 53rd St.) through January 31, 2013.