For many, aerial mass transit–either by way of tram or gondola–is an idea best left to ski resorts and World's Fairs. But for a growing number of urban planners and designers, aerial transit represents an alternative for cities where traditional transit options are limited. At PSFK's recent conference in San Francisco, Frog Principal Designer Michael McDaniel unveiled an ambitious plan called the Wire, which proposes a network of gondolas over Austin, Texas.
McDaniel and his team imagine a system of 3S detachable gondolas connecting neighborhoods throughout the city, making it possible for cyclists and pedestrians to "hop" over particularly congested areas. "The big advantage here is the detachable part which means more gondolas can be added during rush hour and removed in non-peaks times," he tells Co.Design. After looking at precedents–like dedicated bus lanes and Portland, another city whose aerial tram has been a huge success–the design team took to Austin's streets, interviewing locals about their transit experiences.
Second-tier cities like Austin are tough places to implement comprehensive public transit systems beyond buses. If a city wants to build a system at street level, they're faced with the issue of land rights: Building a light rail or tram through an urban core requires buying rights from dozens of landowners. They might choose to eschew the street for an underground subway system–but exorbitant costs and decades of gnarly construction work remain.
"It is simply a real estate problem," says McDaniel, whose other projects include a portable emergency housing unit slated to go into production later this year. "Part of the Wire concept is to circumvent this real estate issue by cheaply flying over the real estate allowing more access to areas that other modes of transit simply can not provide for the same costs. Once you couple that type of core circulator with an Amsterdam-style city bike program, under single fare, you get a door-to-door transit system that is implementable today." After the Wire's public debut on November 1, the team is planning to meet with Austin officials and gondola manufacturers about its feasibility, though McDaniel has no delusions about a timeframe. "In my experience, products and concepts without an existing client are generally more difficult and take longer to realize," he says.
The plan is likely to inspire a good deal of debate, thanks to the polarizing nature of transit issues. Some advocates believe that separating cars from foot and bike traffic ultimately works against overall street safety–that drivers who don't encounter bikes and pedestrians on a regular basis are more dangerous when they inevitably do. "Urban mobility networks that segregate by use and rely on totally new modes like ski lifts further dis-empower users of existing car-alternative modes like buses and bikes," says one urban planner, Andrea Marpillero-Colomina, who is an Isador Lubin Fellow and PhD candidate in urban and public policy at the New School. "It reinforces to car drivers that they rule as dominators of the road, encouraging them to become further disengaged."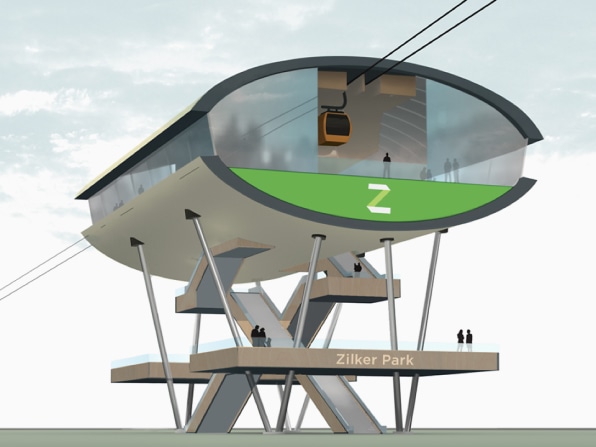 But McDaniel explains that the Wire isn't about completely separating foot and car traffic. Rather, the idea is to carefully insert "shortcuts" into the existing urban fabric, allowing cyclists and pedestrians to circumvent the worst areas. "First off we are not talking about totally segregating car, foot, and bike traffic, but combining them in a smart and pragmatic way," he says. "If they meet us on the Wire we will have more ways and more money to help them cycle around the cities. What the Wire does is create more choices for commutes."
It's definitely a romantic concept–actually, it's downright utopian. McDaniel articulates his plan as a "layering" of new infrastructure onto older cities–build up, instead of out. "[It's] very much like DSL originally allowed broadband to exist over our old copper phone lines," he adds, "which was thought of as impossible to do beforehand."