As wireless technologies like Bluetooth and AirPlay have matured over the last few years, we've started to see a new class of speakers emerge, tune-pumping gizmos that are portable, powerful, and, in the biggest departure from their predecessors, actually kind of fun. Turns out, when you don't have to fuss with dongles and power cords, speakers start seeming a lot less frustrating. It's a phenomenon that's been reflected in the look of the products, too. Take the Jambox, one of the most visible members of the fun speaker brigade; it's a little rubber block that doesn't look like a gadget so much as a bath toy. The Libratone Zipp follows suit. It's a simple cylindrical speaker with a zip-up wool covering–more a piece of colorful decor that happens to play music than anything resembling a standard piece of audio gear.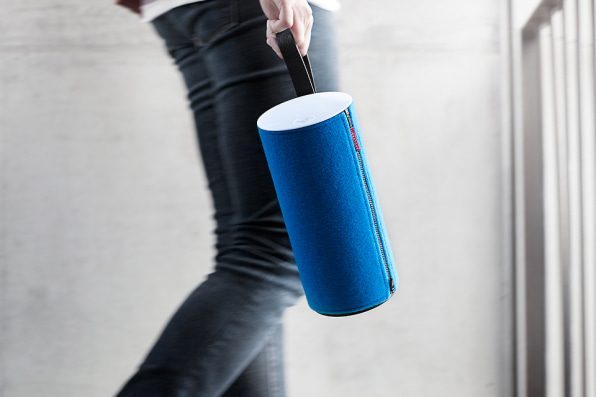 The Zipp's name is a nod to its most unique flourish: eight interchangeable zip-up coverings made from Italian wool. Not quite as beside-the-bathtub friendly as the Jambox but definitely more chic than your typical plastic speaker. The battery-powered Zipp relies on Apple's AirPlay for wireless tuneage, and a proprietary tech called PlayDirect gives you the option of creating an ad-hoc network between the speaker and your smartphone, meaning you can connect even when you're out and about (and without Wi-Fi). By going the Wi-Fi route, the Zipp should give you a wider wireless range and more bandwidth than you'd get with a Bluetooth speaker, in case you were really set on listening to those gigantic FLAC files during your picnic.
Libratone, a Danish company with ties to the high-end audio company Steinway Lyngdorf, says its goal is to "create a sound source that will be a positive addition to the room instead of trying to take it over." (See! They won't even call it a speaker!) But the idea's appeal is easy to understand–instead of outfitting each room with its own outlet-bound sound solution, something like the Zipp gives you music whether you're in the kitchen cooking, in your living room playing a board game, or even, yes, in the tub soaking–and it's unobtrusive enough that you won't mind leaving it around in any of those places afterwards.
The Zipp is the newest and most portable of Libratone's three speakers (though the Live and the Lounge boast wool get-ups, too), and a detachable leather strap offers an easy way to tote the four-pound device when you're taking it outside the house. With an accompanying app, you can plug in some info about where you've got the speaker sitting–how far it is from the walls, whether it's on a table or the floor, etc.–and it will automatically optimize the sound for the situation.
Ultimately, it's a design that reflects not only the new developments in wireless tech but also the new ways we're using speakers today.
"When we design the speakers we don't look at what's out there already or what our competitors are doing," Kristian Krøyer, the company's creative director told me. "We try to find our own way and what makes sense for the user today, and since the world around audio changes all the time the last years with digital music and wireless technologies, there's really not a lot of inspiration to find in the existing speaker industry."
But the Zipp's elegant (and unintimidating) look is also about making it appeal to a wider base of users. "It's no secret we don't only want to design products for men (as most of the consumer electronics industry are doing)," Krøyer added.