Candy canes, monster trucks, sheriff badges, chocolate chip cookies, and the Empire State Building. Look closely at Flat Vernacular's wallpaper, and you'll find them all, plus hundreds of other signs and symbols of Americana. Each iteration of its custom sticker wallpaper is unique, commissioned on a case-by-case basis from Flat Vernacular cofounder, Payton Cosell Turner, who spends days perfecting elegant flourishes and arabesques made from tiny store-bought stickers.
Turner was finishing her BFA at Maryland Institute College of Art in 2008 when she began experimenting with stickers during her thesis year. The project eventually grew into a company, founded with her fiancé, Brian Kaspr, in 2009. The duo work out of a studio in Brooklyn, where they handprint each of their 14 designs, customizing and changing the prints as they go. "Traditional wallpaper and decoration is a major source," Turner said recently. "But we simply find inspiration in a variety of places. Random places. A stack of boxes laying just so, caterpillars, roast beef, Americana, the way the light looks at 5 a.m. in Westhampton Beach . . ." Hits range from Eyelets, a beautiful lace pattern drawn from human eyes, to Toile de Derby, a toile-style pattern of broken down muscle cars and trailer park charm. But Turner's custom sticker wallpaper and the print it inspired, Too Much Stuff, remain the real stand-out start of the FV family.
What makes these designs so magnetic? Well, first, there's the nostalgia value, both of the content and the packaging–who doesn't remember Lisa Frank stickers of yore? But second, and maybe more interestingly, there's the historical exchange going on here. Up until the 20th century, wallpaper was a hallmark of the very wealthy. In pre-Revolution France, the most famous wallpaper manufacturer, a man named Jean-Baptiste Réveillon, was nearly murdered in his home by a mob of angry Parisians (Réveillon fled to England, where wallpaper was all the rage). As manufacturing technologies improved, the stuff would become the standard in suburban American homes. But its well-to-do air has always lingered, and Flat Vernacular exploits it with glee.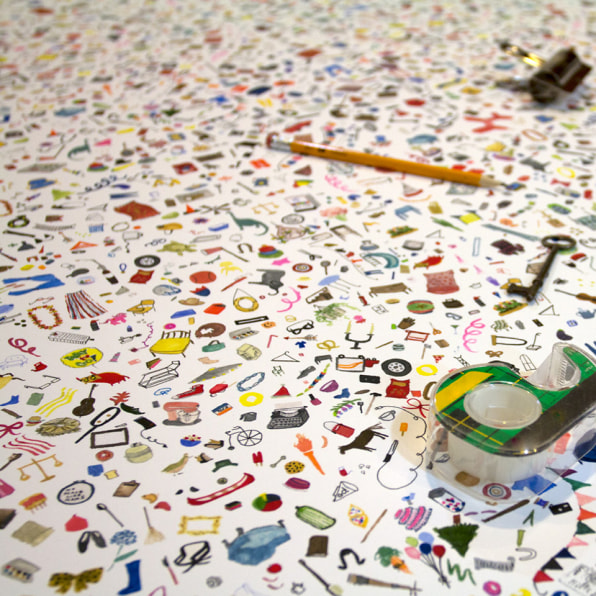 What's next for Turner and Kaspr? The duo recently completed work on a custom toile wallpaper for the Chelsea restaurant Alison 18 and are always working on new prints for the LV collection. But they've got bigger projects in mind, too–lest we forget they began as art students, they recently hinted at their dream project: "covering the Guggenheim in sticker wallpaper on the inside." Given the duo's momentum, and the pattern-centric Gabriel Orozco show on view at the Guggenheim now, that may not be as radical a proposition as it sounds.