Most televisions live on a shelf. The proudest among them are hung from a wall. But in most cases, however your TV rests, it's just stuck there. You, quite literally, are forced to live your life around the television.
TV Barrow is a somewhat whimsical, entirely practical product by Brooklyn designers Che-Wei Wang and Taylor Levy, who make up the studio CW&T. The design–which is actually on sale–caught our eye because it's almost like a functional Readymade, an everyday object repurposed as a piece of art while still retaining a functional role. (If anyone put Duchamp's urinal to use, it probably wasn't out of functional necessity.)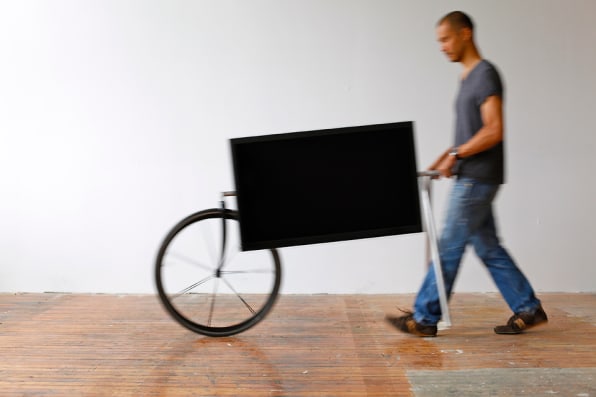 The idea for a television wheelbarrow stemmed from Wang and Levy's first flat-panel TV. They didn't like it hanging on the wall–the black square was too "TV-like"–and they eventually settled on a more mobile set, one that can follow them around from the couch to the bed, or wherever else they'd like to watch a movie.
"The wheelbarrow is terrific at what it does, and we happen to have bicycle forks and wheels lying around, so it made sense to use the parts we have to make things we want," they explain. "Bicycle wheels and forks also happen to be beautiful objects, so you can't go wrong using those parts, even if you were to just shove it on a stool."
You could call it a strange invention, but the TV Barrow is relatively at home in CW&T's eclectic portfolio. Their works are split between hardware and software design, from machined mechanical objects to iOS apps. To be honest, there's not much rhyme or reason connecting the dots between projects, except each stems from a passion to see far-out ideas turned into something tangibly real.
"Everything we make is something that we want to see exist in this world, whether it's a physical object, a piece of software, or a blurry combination of both," the team says. "We are part of a growing culture that reinforces the idea that if you want something, you can make it. When we make things, we give a lot of weight to their heirloom-ness. We love things that last multiple generations, so we try to make things that might live longer than we will."
The results are unique, often fascinating pieces that would probably never be produced by a larger, commercially driven studio. One of their most successful projects is the Pen Type-A, what they describe as "an insanely over-engineered pen in a ruler sleeve made as an homage to our favorite cheap ink cartridge." It's a premium ($150) heirloom-quality pen that takes gel ink from a $3 disposable Pilot. The Pen Type-A is not a product with a traditional market, but it makes a certain kind of sense: A lot of those cult-classic disposable pens write wonderfully. They just look and feel like garbage.
CW&T's other best-known project is entirely different. Their Google Earth Clock is basically a digital clock that builds the time by zooming in to various things that look like digits. So the display is constantly crafted from different rivers, buildings, crop formations, or any other landscape features that resemble Arabic numerals when viewed from above.

"We make a lot of experimental time-related devices for fun, which we might call art, but it's really just stuff we want that nobody else wants," the team explains. And they're right. It's fair to call the clock art, but in the respect that it has no real commercial venue to be sold (an iPhone app, maybe), in a sense, nobody else can possibly want it. A Google Earth hack is simply not a piece of art a collector can make their own.
Luckily, anyone can buy that TV Barrow. Inquire with CW&T for more information.
[Hat tip: mocoloco]